Oh S#!T, My Pet Has Peed On My Oriental Area Rug – Now What?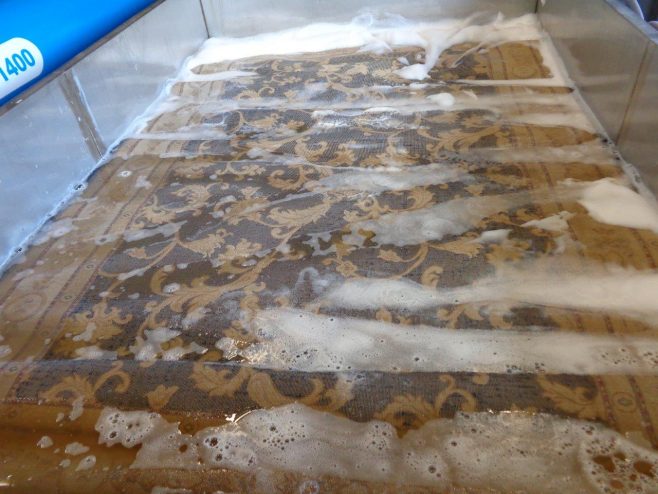 Enzyme Bath For Pet Urine Treatment
Urine Treatment Processes
Urine in a wool or silk area rug can be very difficult to remove but Oriental Rug Salon has some of the best products, equipment, and expertise available to assist us in returning area rugs to pre-accident condition.
With some rugs, the urine patches are not visible on the surface. Through experience, we know that all pet urine damage is not visible to the naked eye, therefore, we use a special Xenon light source and special eyewear to help us pinpoint the exact spot where urine is located. Once urine and associated bacteria are located, we are able to direct our specialty treatment for maximum effectiveness.
In all cases where urine decontamination is necessary we initially target pockets of urine with specialty spotting agents designed to help eliminate urine salts and staining.  The area rug is then introduced to a specialty bath consisting of enzymes that will digest urine and organic bacteria due to pet urine, feces, vomit, and blood.  After twenty-four hours, the area rug is thoroughly rinsed and introduced to a bath where both sides of the rug will be washed by hand.
Once an area rug has received a thoroughly exhaustive treatment and cleaning, we then dry on an air table, perform a second inspection, treat any remaining stains, and apply a finishing and deodorizing agent in preparation for final delivery to our client.
In over ninety percent of all area rugs received with pet urine discoloration, we can remove any visible staining.  In some cases, especially where urine has sat for months or years, the acids in the urine have had sufficient time to permanently damage the wool fibers and the stain is permanent.  With a hand washing and specialty treatment, oftentimes these stains will fade but may never go away.
Pet Urine Home Treatment
It's imperative when your pet has an accident on your cherished area rug that you immediately follow these steps:
Dab us as much of the urine as you can with a paper towel, white cloth or sponge
Create a mixture of 50% WHITE vinegar and 50% water. Test an area on the back of the area rug to make certain this mixture will not cause your rugs colors to run.  If no running occurs, sufficiently saturate the urine area of the rug and allow mixture to sit for 3-5 minutes.
Blot the affected area until the spot is barely moist. If you have a fan, place the fan on the rug and allow to dry.  If you do not have a fan, place paper towels on the area and weigh down with a jar or other object and allow to dry.
Oriental Rug Salon is a full-service rug cleaning and repair facility serving all of SW Florida and clients from around the world.  We are the "Cleaner of choice" to many of our areas leading interior designers, realtors, rug collectors, restoration companies and clients who simply love their Oriental, wool and silk area rugs.
Oriental Rug Salon is a Certified Partner with the prestigious Institute of Inspection, Cleaning and Restoration Certification (IICRC) and the International Carpet & Rug Institute (CRI).  In addition, we are A+ rated by the Better Business Bureau and a four-year-in-a-row-winner of the coveted Angie's List Super Service Award.
For more information about Oriental Rug Salon and the services we offer, please visit us online at www.OrientalRugSalon.com or call us anytime at 239-424-8171.
Please LIKE US on Facebook to receive tips and money-saving coupons on cleaning services and repairs.  Our Facebook address is:  https://www.facebook.com/OrientalRugSalon/ 
---
Pet urine on Oriental rug | Pet urine on wool area rug | Pet urine on silk area rug
Pet urine and odor treatment services provided throughout Marco Island, Naples, Bonita Springs, Estero, Fort Myers, North Fort Myers, Fort Myers Beach, Cape Coral, Lehigh Acres, Sanibel, Captiva, Useppa, Punta Gorda, Port Charlotte and Sarasota FL.