How to Interpret a Rug's Design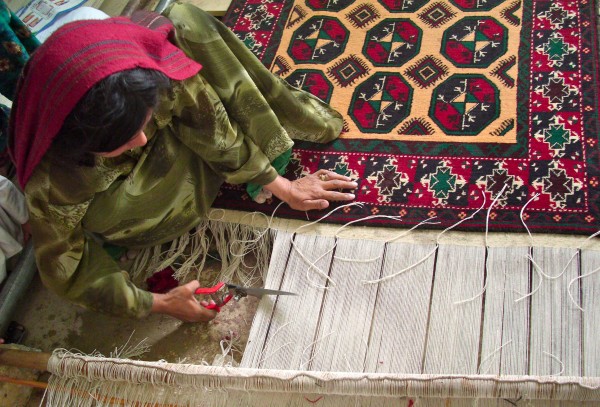 By learning the meanings of Persian rug patterns, you will be able to "read a rug" and understand what the weaver tells us. The names of Persian rug patterns are derived from the city, village, or tribe where particular patterns were first woven or traded.
Rug design techniques that were made thousands of years ago have been handed down from one generation to the next. Few written records exist of the design process and no two hand-knotted rugs are the same.
People from various regions – tribes, villages, cities – use different designs and materials in the construction of rugs. Wool is, by far, the most common material used because those rugs are the most durable and marketable. Using the wool from the sheep that is dyed, spun, and then woven into rugs and other useful items, the finished product is then taken from the tribe to the bazaar in the various cities where they are sold throughout the world.
Various religions are practiced throughout the tribes, and Persian rug makers believe that the rugs are made with a sense that God is watching them. Also, rugs mean income and that means survival to many of the people involved in the rug-making process in this country.
What determines the value of a rug?
Hand-made rugs are more valuable than machine-made rugs. The back of the rug will help a person determine if it is hand-made or machine-made. A hand-made rug has the same, vibrant design as the front of the rug.
Knot Count: the more knots per square inch, the more valuable the rug.
Design: the more intricate the design, the more valuable the rug.
Materials: Silk is the most expensive material used, and the very nature of that natural material requires the rug maker(s) to create a rug with a high number of knots per square inch (1,000/Square Inch or more) than other rugs. Because of the materials used and the time to construct these rugs—often a year or a person's lifetime—silk rugs are often the most expensive rugs on the market.
Wool is the most common material used in Persian rugs. Persian wool is arguably the best in the world. It is lustrous and superior.
Antique rugs are often more expensive than newer rugs, but that is because of market demand and not because they are actually better.
If you want to buy a valuable Persian rug, first of all, it must be handmade. Machine made rugs lack originality, durability, charm and investment.
In other words a machine-made rug is not a real oriental rug. They are simply for covering floors. While it took at least 8 months to years for a handmade carpet to be made, it is minutes for a machine rug.
Symbols and Motifs of Oriental Rugs
Meaning of Oriental Rug Colors
| Color | Meaning |
| --- | --- |
| Green | The holy colour of the Prophet Mohammed – it's used sparingly in places least likely to be walked on. Hope, Renewal, Life, Spring |
| Red | Beauty, Wealth, Courage, Luck, Joy, Faith |
| Blue | Power or Force, Solitude – Allusion to the After Life |
| Orange | Humility and Piety |
| Yellow | The Sun, Joy of Life |
| White | Purity, Cleanliness |
| Black | Usually only found in outlines. Mourning, Destruction |
| Gold | Power, Wealth |
| Brown | Fertility |