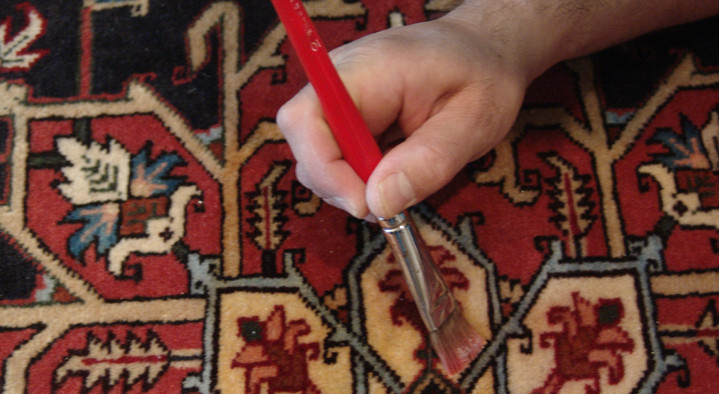 For Difficult Stains – Call The Professionals!
Stain Removal
When you accidentally spill something on your cherished wool or silk rug—we've all had an "Oops" moment like this!—you will likely panic. Yet, the best way to handle such issues with Oriental rugs is to use appropriate spotting solutions since most over-the-counter products won't work effectively and can even set the very stain you are trying to remove. Don't let that pesky spot ruin your beautiful area rug; take proactive action by using specialized cleaning remedies instead!
Professional Stain Removal Services
Oriental, wool, and silk area rugs can stay in your family for generations if you take the proper steps to prevent damage. If a stain has already occurred that you can't remove or don't feel comfortable attempting to tackle on your own – we've got you covered! Give us a call any day of the week at whatever time works best for you. Our rug cleaning specialists will be more than happy to guide you through treatment options or even pick up your rug and provide necessary services, such as stain removal at our rug cleaning plant.
As industry-recognized professionals in stain and odor removal, Oriental Rug Salon's services are sought after by many of our area's top interior designers, insurance companies, contractors, rug collectors, and homeowners for expert stain removal. Our expertise extends beyond wool and silk area rugs – we're the go-to experts for all your quality cleaning needs!
We are successful in treating a wide variety of stains, including:
Berries, blood, cherry, chocolate, coffee, colas, crayon, dried blood, excrement, glue, grape, grass, grease, gum, ice cream, ink, iodine, jelly, latex paint, lipstick, milk, mud, mustard, nail polish, oil, olive oil, pet, pomegranate, purple juice, red juice, red wine, rust, soda, spills, strawberry, tea, tomato sauce, urine, vomit, wax, and wine.
Spotting Procedures
Act fast to prevent permanent damage to your Oriental, wool, or silk rug by treating any stains quickly and efficiently. In the event of food spills or urine on an Oriental or Persian carpet, absorb as much liquid as possible using paper towels and/or white cloths. Then gently dab the stained area with a moist (white) paper towel to rinse out most of the spill before it has time to set in.
Never scrub the fibers of a wool or silk area rug. Too much manipulation of the pile can spread the stain and damage the rug's fibers.
Once you have blotted as much of the spill as possible, make your spot-cleaning solution as follows:
1/4 cup white vinegar*
1/2 tsp liquid dishwashing detergent
2 cups of club soda or tepid water
*Most Oriental rug dyes are acid-fast. Adding a little white vinegar to the spot-cleaning remedy makes the spotter more acidic, and this reinforces the bond between the dyestuff and the wool in the rug, and so helps prevent the colors from running.
Sponge the area with the above solution and dab it with a clean sponge and cold water to remove the spotter. Use absorbent towels or a firm, non-shedding sponge to recover as much moisture as possible. Note: Don't use a stiff brush that pulls fibers from the pile. Don't scrub hard at the face yarns of your rug. Sponge in the direction of the nap. Place some towels under the spot to keep the floor or pad from getting wet. You can use a portable fan (or sealing fan) to help with the drying process. When the nap feels dry, check the back of the rug to be sure the area is completely dry.