Oriental Rug Cleaning – Hand Washing vs. Machine Washing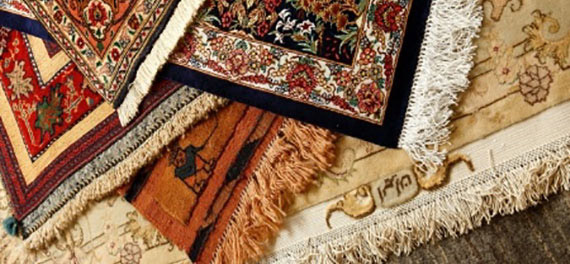 Fact:  Did you know batch area rug cleaning plants can wash 10-12 rugs at a time?
The terms "handmade," "hand-knotted," and "hand sewn" are synonymous with quality, and when you have a textile made by hand, it is unique and personalized. Persian and Oriental rugs are some of the best examples of this, as each rug is meticulously crafted by hand over the course of many weeks, months, or even years. Cleaning rugs by hand, likewise, provides a unique level of care that is suited for your rug and its particular needs.
After investing in a handmade Oriental rug why would you have it cleaned any other way than by hand?
Would you throw your cherished cashmere sweater or other delicates in with your blue jeans and soiled pet linens?
There's A "Right" Way and a "Washing Machine" Way to Clean Oriental, Wool and Silk Area Rugs
Machine Washing Rugs vs. Hand Washing Rugs
High quality Persian and Oriental rugs last for decades and are quite resilient if cared for properly. After all, we walk on them, spill liquids on them, arrange heavy furniture on them, our pets and children play on them, and they are subjected to all the rigors of daily use.
With routine maintenance, a high-quality rug can last for generations, but a single trip to the wrong rug cleaning service can wreak havoc on it.
The best indicator of a good quality rug cleaning service is its method of washing. Find the rug cleaning service that hand washes rugs, maintains national certification, is A+ Rated by the Better Business Bureau and who actually has a rug cleaning plant you can visit anytime and you'll find the best choice for your rug!
Machine-Washing Rugs
Many rug cleaning companies cut corners by batch washing rugs or washing multiple rugs sequentially in industrial sized washing machines. This method is not as effective as hand cleaning and can be quite harmful to the rugs. Here's how:
Machine washing of Oriental rugs does not provide individualized care. As your rug tumbles around in the wash, dirt, grime and pet urine from your neighbor's rug are being mixed into your own rug!
If the dye in one rug bleeds during machine cleaning, the dye will transfer right into your rug.
The mechanical process of machine-washing can be brutal, and the finer the rug, the more damage the washing machine can do. Older Oriental rugs can begin to fall apart in a washing machine, and antique rugs can disintegrate.
The counterpoints many washing machine plants use is that the mechanical process of their paddle wheels is just like a natural running stream and that your rug will gently "swim" among the other rugs.  I don't know about you folks, but when people bring their rugs to us they want them cleaned and not taken for a swimming lesson.
Our gentle hand-washing approach provides the appropriate amount of attention and agitation to ensure your area rugs receive a thoroughly exhaustive cleaning.
Batch machine washing is impersonal and not as effective and a hands-on approach.
At Oriental Rug Salon, our hand-wash guarantees your area rug never leaves the capable hands of our experienced rug cleaning professionals.  We control the entire cleaning process, every step of the way, and can make adjustments immediately in the event an area rug requires specialized attention.
Our hands-on method guarantees your area rug receives the very best care possible.
Hand Washing Rugs
Hand washing is the safest, most effective, and most thorough method of cleaning Oriental and Persian rugs. A rug bath allows each rug to have individualized care in these ways:
The soil level and types of stains can each be addressed uniquely, paying close attention to the fiber content, the type of the rug, the age of the rug, and other details that would affect the cleaning process.
The temperature of the water and the pH levels of the cleaning solution are all formulated for each individual rug.  We wash rugs one at a time and each bath is unique to the particular needs of the rug.
A dye test is performed on each rug to ensure the dye will not bleed or transfer during the cleaning process.  If we find a rug that fails our bleed test, they dyes are stabilized and monitored throughout the cleaning.
Each rug goes through a detailed process of cleaning. They are fully immersed, shampooed on both sides, rinsed in a constant flow of water, and allowed to thoroughly air dry.  The fringe is meretriciously detailed for the best results possible.
The hand-cleaning process involves multiple steps and is not as easy as loading rugs into a giant washing machine and pressing the "start" button.
At Oriental Rug Salon, our hand-washing process evolved through many years of training and certification.
Our signature cleaning process involves special tools for the job, including a specially constructed rug bath and air table.
Our technicians only clean wool and silk area rugs, nothing else.  They do not clean tile and grout, upholstery or the carpeting in a client's home.
Our hand-washing approach to Oriental rug cleaning means that client's rugs are cleaned more thoroughly and safely, and with the quality and attention to detail that will preserve the rug for years to come.
Thoroughly Exhaustive Hand-Washing and Attention to Detail
Oriental Rug Salon, cleans area rugs the way they've been cleaned for hundreds of years, the old-world way.  We do not use impersonal machines and we do not batch wash client's rugs with others.
Oriental Rug Salon is proud to be the "cleaner of choice" to many rug collectors, interior designers, insurance and restoration companies and clients who simply love their rugs and would not trust their textiles to anyone else.  We regularly clean area rugs from around the United States due to our reputation, certifications, and attention to detail.
Why Do Companies Use Batch Washing Machines Instead of Hand Washing?
The answer is simple.  Anyone can throw some rugs in a large tub, add detergent and push the start button.  These companies don't need specialists.
With batch washing, the company can wash many rugs at one time and since "time is money" the higher their production, the more money in their pockets.
Recently we've seen an uptick in the number of national carpet cleaning franchises starting to get into the "rug cleaning business".  They are purchasing industrial size washing machines and advertising they're now "rug cleaning specialists.
Their technicians have no experience with fine textiles, cannot identify a machine made from a hand-knotted area rug and don't know the difference between a Tabriz and a Heriz wool area rug.  In their employer's world, they don't have to, all they need to know is how to press start.
Oriental Rug Salon is SW Florida's most respected Oriental, Persian, wool, and silk area rug cleaning and repair company.  We are a Certified Partner with the prestigious Institute of Inspection, Cleaning and Restoration Certification (IICRC) and the International Carpet & Rug Institute.  We are also A+ rated with the Better Business Bureau and a four-year-in-a-row-winner of the coveted Angie's List Super Service Award.
For more information on our hand-wash Oriental area rug cleaning process please visit us online at www.OrientalRugSalon.com or call us anytime at 239-424-8171 Lee or Collier County or 941-893-1655 – Sarasota, Port Charlotte, and Punta Gorda Fl.
Please LIKE US on Facebook to receive tips and money-saving coupons on cleaning services and repairs.  Our Facebook address is:  https://www.facebook.com/OrientalRugSalon/ 
---
Oriental Rug Cleaning | Area Rug Cleaning | Wool Area Rug Cleaning | Silk Area Rug Cleaning | Fringe Repair | Area Rug Repairs \ Oriental Area Rug Appraisals
Oriental Rug Salon cleans and repairs area rugs and offers free pick up and delivery for most rugs throughout the cities of Cape Coral, Fort Myers, Estero, Bonita Springs, Naples, Marco Island, Sanibel, Captiva, Lehigh Acres, Fort Myers Beach, North Fort Myers, Pine Island, Alva, Buckingham, Matlacha, Bokeelia, Saint James City, Port Charlotte, Sarasota, Bradenton Florida.