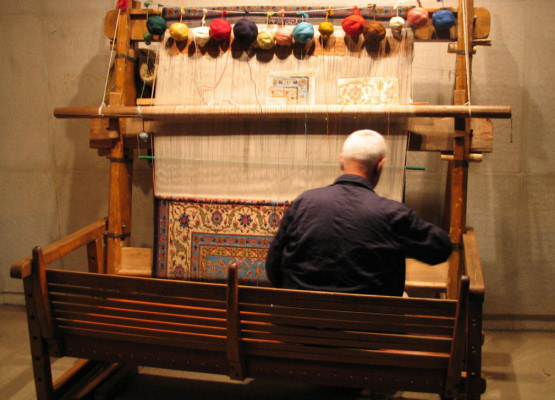 The History and Care of Persian Rugs
Click on the link below to watch a video on how Persian rugs are made.
https://orientalrugsalon.com/how-persian-wool-rugs-are-made/
A Persian rug is a work of art that can explain the heritage of the region where woven and is primarily produced in Iran and other Islamic rug-making countries in the "rug belt."
Rug weaving is an essential part of the Persian and Islamic culture and art and allows these regions a source of income.  Often people question why "Oriental rugs cost so much."  The simple answer is a typical 8X10 hand-knotted area rug can take eight months or more to produce depending on the knot count.  There is a lot of labor and love that goes into each rug.
"Oriental rugs" are produced by the countries of the "rug belt," which stretches from Morocco across North Africa, the Middle East, and into Central Asia and northern India.  The Persian rug stands out from other rugs by its construction and the variety and elaborateness of its various designs.
Many Persian rugs of various types were woven by nomadic tribes, in village and town workshops, and by royal court manufactories. As such, weavers from the rug belt introduced different, simultaneous lines of tradition, and reflect the history of Iran and the Islamic various peoples.
Hand-knotted rugs woven in towns and regional centers like Tabriz, Kerman, Mashhad, Kashan, Isfahan, Nain and Qom are characterized by their specific weaving techniques and use of high-quality materials, colors and patterns. Town manufactories like those of Tabriz have played an important historical role in reviving the tradition of carpet weaving after periods of decline and embargos.
Rugs woven by the villages and various tribes of Iran and the rug belt regions are distinguished by their fine wool, bright and elaborate colors, and specific, traditional patterns. Nomadic and small village weavers often produce rugs with bolder and sometimes more coarse designs, which are considered as the most authentic and traditional rugs of Persia, as opposed to the artistic, pre-planned designs of the larger workplaces. Gabbeh rugs are the best-known type of carpet from this line of tradition.
The art and craft of carpet weaving have gone through periods of decline during times of political unrest, or under the influence of commercial demands. It particularly suffered from the introduction of synthetic dyes during the second half of the nineteenth century.
Carpet weaving plays a significant role in the economy of modern Iran. Modern production is characterized by the revival of traditional dyeing with natural dyes, the reintroduction of traditional tribal patterns, but also by the invention of modern and innovative designs, woven in the centuries-old technique. Hand-woven Persian carpets and rugs have been regarded as objects of high artistic and utilitarian value and prestige since the first time they were mentioned by ancient Greek writers.
Oriental Rug Salon is a full-service area rug cleaning, restoration, repair, and appraisal company serving clients worldwide.  We are A+ Rated by the Better Business Bureau and a seven-year-in-a-row-winner of the coveted Angie's List Super Service Award.
Unlike many "Oriental" rug cleaning companies who have zero knowledge as to the construction, design, or health of a beautiful area rug, we LOVE rugs.  Our technicians are highly experienced and certified in the cleaning, repair, and care of wool and silk area rugs.
For more information about Oriental Rug Salon and services offered, please visit us online at https://orientalrugsalon.com/or call us anytime at 239-424-8171.
You can also visit us on our Facebook Page at https://www.facebook.com/OrientalRugSalon