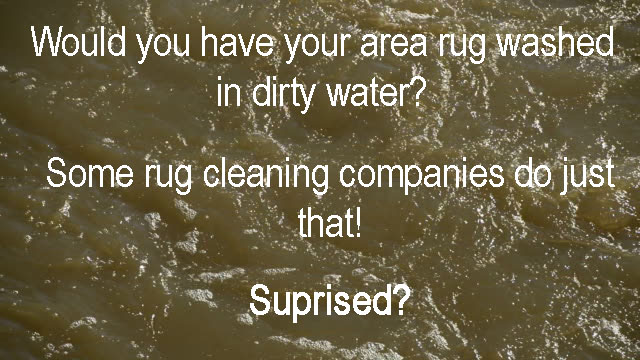 Some Rug Cleaners Wash Oriental Rugs In Dirty Water. Suprised?
Would you take a bath in this water?  Why should your area rug?
Imagine for a moment.  The time has come to clean your cherished wool or silk area rug, and you don't know who to call.
You perform a quick internet search, find a company close by, give them a call, secure an estimate, and the next thing you know, your rug is off to be "cleaned."
Did you ask the right questions to make sure your area rug was going to be returned in better condition than when it left your home?  Will it be fresh and clean?  What procedures will the company use to clean your rug?  Is the company a specialist in wool and silk rug cleaning?  Are they certified and experienced, or are they a carpet cleaning company that'll take your rug back to the shop and steam clean it in a driveway?
Rug Cleaning The Oriental Rug Salon Way
Hand-knotted, Karastan, Persian, Oriental, Turkish and other wool and silk area rugs require specialized cleaning due to their rug pile density, the composition of the dyes, the intracity of the weaving, the material(s) used in the rug's construction, etc.
There are several options available to professionals who clean "Oriental" rugs.
In high production rug cleaning plants, they prefer to use automated batch washing machines.  This process allows them to clean many rugs at the same time.  These rugs share the same bath and cleaning solutions.  This automated wash process is quick, and after all, time is money.  The more rugs they tend in a day, the more the plant makes.
Another thing to point out is sheer economics.  In the automated process, all you need is an employee who can load the tub and push the start button. It doesn't take much skill to do that.  And because the skillset is minimal, so is the hourly rate, experience, and technician certification.  This entire process is a win-win – FOR THE RUG CLEANING PLANT.
At Oriental Rug Salon, we don't use automated batch washing tubs.  This process is impersonal, not as effective as handwashing, and quite frankly, we don't believe your rug should be washed with everybody else's.  All rugs are not the same, and each has it's on cleaning requirements.  Some client's rugs may have pet urine issues while others may have dyes that migrate, or are antiques and can not stand up to an automated cleaning.
Hand-knotted and other fine wool and silk area rugs have a story to tell.
It took months or a year or more to delicately hand-weave your rug into the work of art it is today.  These rugs are a labor of love for the weaver and an income source to provide for their family.  In many instances, the person who wove your rug may belong to a tribal family who has been weaving carpets for generations.
Area rugs deserve attention and gentle care that only an experienced-certified handwashing expert can provide. With the certified area rug cleaning specialists at Oriental Rug Salon, you can rest assured of a phenomenal cleaning. From the moment your area rug enters our inspection process, throughout the cleaning, drying, and final inspection stages, your rug never leaves the eyes of a craftsman dedicated to providing the best possible care for your area rug.
At the beginning of this blog post, we asked would you take a bath in dirty water?
When rugs are batched washed, many at a time are dumped into a tub. Your rug might be worth thousands of dollars and has never been exposed to pet allergens or urine.  Other rugs in this same wash may be full of urine, pet allergens, drink spills, and who knows what else.  Imagine what that water looks like as your rug is tumbling with everyone else's.
At Oriental Rug Salon, we wash rugs one at a time, using fresh-clean pH adjusted cleaning solutions and rinse.  Each rug is inspected, and a bath is specially prepared just for them.  An experienced textile cleaning professional will handwash your area rug. Because our approach is dedicated to one rug at a time, should your rug require specialized intervention during the cleaning process, we can make immediate adjustments to ensure your area rug ends up in the best condition possible.
Oriental Rug Salon is a Certified Partner with the international Institute of Inspection, Cleaning and Restoration Certification (IICRC) and the prestigious Carpet & Rug Institute (CRI).  In addition, we are a WoolSafe Approved Service Provider. We are A+ Rated with the Better Business Bureau and a seven-year-in-a-row-winner of the coveted Angie's List Super Service Award.
If Oriental Rug Salon can ever be of service for your area rug cleaning, repair, restoration, or appraisal needs, please do not hesitate to give us a call anytime at 239-424-8171.  You can also learn more about our company by visiting us online at www.OrientalRugsalon.com or visit our Facebook page at https://www.facebook.com/OrientalRugSalon