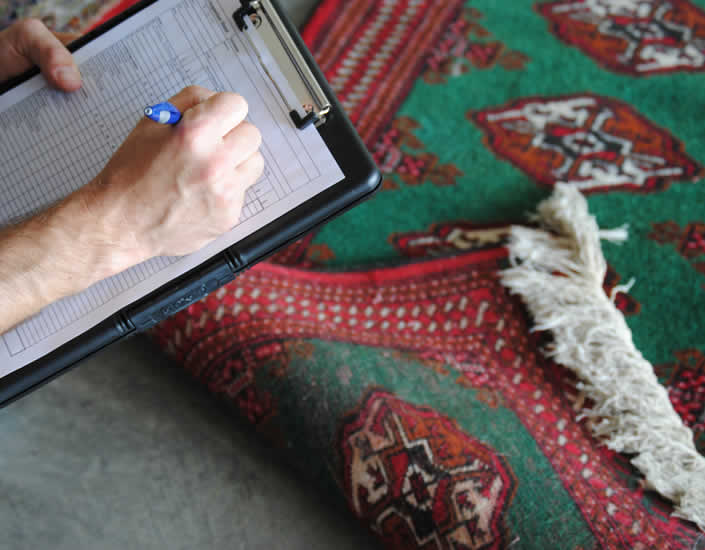 Oriental Rug Appraisals – What You Need To Know
As an Oriental and Persian cleaning, repair, and appraisal company, Oriental Rug Salon has met too many people who've had the wool pulled over their eyes by unscrupulous rug sellers.
One client, for instance, came to our facility with what she thought was a rare antique Persian rug. She paid $11,000 for it at auction, where she was told it had once belonged to Persian royalty. Upon our evaluation, which included a historical, auction, and other data points, we informed her that not only did she overpay for the area rug, the story about belonging to Persian royalty was made up. The rug was an Indian carpet she could have purchased anywhere for $1,500.
For uninformed buyers, it's easy to be taken for a ride on an Oriental rug. They can be fooled into paying thousands for a cheap, poor-quality one that's been passed off as an authentic, hand-woven rug. Just as disappointing, the carpet you see hung up or in a pile at a local retailer or rug seller for $10,000, in some cases, carries a value of $2500.00 or less. How do you know?
A high-quality Oriental or Persian rug can appreciate in value over time. Antique rugs can sell for tens of thousands of dollars or more. Recently a 300-year-old antique rug sold at Sotheby's in New York for $550,000 while an 8.8 X 6.5 wool area rug sold for $33.8 million dollars. You read that right, MILLIONS!
Things To Look Out For When Purchasing An "Oriental" Or Persian Rug
A rug must be at least 100 years old to be considered an antique. If it's 50 to 100 years old, it's a "semi-antique." A rug less than 40 years old is deemed to be "new."
A quality and potentially valuable rug must be made entirely by hand.
The quality of a fine rug can be seen with the naked eye. Every leaf, every flower, stands out in precise detail. All the scrollwork and shading are sharply defined, whereas machine-made and production rugs lack the high definition of hand-woven rugs.
Often, manufacturers will silk-screen a pattern onto a rug, injecting the dye into the wool. Those rugs usually sell for a few hundred dollars at roadside stands or many retailers and big-box stores.
Other manufacturers stretch the rugs on a framework similar to a needlepoint frame. They use liquid glue and pour the wool on top; then, a machine presses the wool through. Over time, the glue emits an offensive odor, and after ten years, the rug isn't worth anything.
Consumers can tell a lot about the quality of a rug by flipping it over and checking its back for glue or machine stitching. For a rug to be authentic, it must be hand-knotted–not just hand-loomed; each knot must be woven by hand.
To calculate the number of knots, turn the rug over and count the knots one inch horizontally and one inch vertically, then multiply the two figures. A fine rug can have 1,000 knots per square inch. It takes four people 12 to 15 years to make a single 9-by-12-foot rug that dense. The curvatures are very defined when you have that many knots, and the details stand out very sharply.
The more colors used in the design of a hand-woven rug, the more valuable it is. Artisans must work harder to combine many different-color yarns. A high-quality rug should have more than eight colors. Less expensive rugs might have just two or three colors.
High-quality Persian rugs have natural dyes that give them wool-rich, permanent colors, whereas a cheap Indian rug will have dull colors.
That's why the colors on antique rugs still glow at you. The dyes are made from vegetables, fruits–and even blood.
The blood from insects and worms produces the most permanent red. It takes 100,000 worms and insects to make two pounds of red dye. Over time the colors fade, but this only adds to the rug's allure.
The wool itself must be of good quality for a rug to appreciate. The best wools come from mountain areas. They have a high oil and fat content, which gives them a soft sheen.
Appraisers also judge a rug by the beauty of its design. Persian rugs from Iran are prized for their creative designs. Many, such as the tree of life, medallion, and garden of heaven designs, are rich in ancient religious symbolism. Oriental rugs from China tend to have floral patterns.
As a rule of thumb, a good-quality 9-by-12-foot rug starts at about $5,000. Any rug should be scrutinized before making a purchase. Always buy rugs from a reputable dealer who has been in the area for a long time and who has good online reviews and an excellent reputation.
Before purchasing any expensive area rug, you may save thousands of dollars by having it appraised BEFORE you buy. At Oriental Rug Salon, we regularly appraise rugs for clients and interior designers before they sign on the dotted line. You'd be amazed at how much money they have saved by involving us in their purchasing decision.
Avoid going-out-of-business sales. Often, the dealers go around the country, opening up stores for a year then advertising heavily when they go out of business. They say the rugs are 80% off. It's not logical.
The dealer will say a rug is worth $15,000, advertise it as 75% off, and sell it for $5,000. The rugs are usually of inferior quality and can be purchased for much less.
When the customer discovers they have overpaid for an area rug, the dealer has fled or refuses to refund their money.
Oriental Rug Salon is a full-service Oriental, Persian, Turkish, and other wool, silk area rug cleaning and appraisal company serving clients throughout the United States. We are certified by the prestigious Institute of Inspection, Cleaning and Restoration Certification (IICRC), the national Carpet & Rug Institute (CRI), and a WoolSafe Approved Service Provider.
For more information about Oriental Rug Salon, please visit us online at www.OrientalRugSalon.com or give us a call at 239-424-8171.
You can also visit us on our Facebook Page at: https://www.facebook.com/OrientalRugSalon