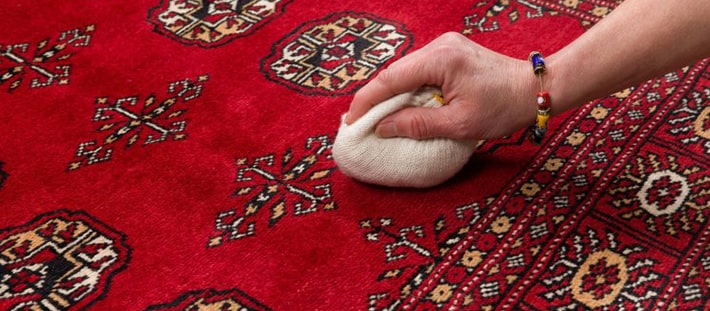 Have Your Oriental Rug Cleaned Before Summer
Handwoven Oriental and Persian area rugs are beautiful and probably woven by a family whose livelihood has been dedicated to rug making for decades. In many instances, rug making is their only source of income, and because of this "labor of love," these artisans can produce masterpieces that adorn homes worldwide. An 8X10 handwoven wool area rug can take eight or more months of dedication to complete.
Due to the density of wool and silk area rugs, you should have them cleaned every 2-5 years to maintain their beauty and value. Oriental, Persian, and other wool and silk rugs can quickly accumulate dirt, dust, pollen, pet hair, and other allergens. Due to their construction, they quite effectively hide contaminates, leaving the face yarns and foundation vulnerable to damage before appearing dirty. As soils and other contaminates settle in, the rug will appear dingy and dull. Dirty area rugs and carpeting can also contribute to allergies and poor indoor air quality. Even with regular vacuuming, you won't be able to remove all the dirt and debris, so have your area rugs professionally cleaned.
Over time dirt, spilled drinks, and other contaminants and allergens build up and become embedded. Under magnification, you'll see that wool has tiny little pockets, like fish scales, that hold dust, dirt, and other debris. Area rugs can hold pounds of dirt before they begin to look dirty. With this dirt, a wide variety of allergens can make family members and those immune-compromised sick or wreak havoc on their allergies. Not to mention that this buildup of contaminants can cause the face yarn fibers to split, damaging your rug beyond repair. At Oriental Rug Salon, we use patented cleaning products and handwashing to remove soils, allergens, and spills while restoring the beauty of your area rugs.
Stains and Pet Urine rug professionally cleaned pet urine stains
Area rugs are often victims of drink and food spills or become victims of sneaky pets and accidents. If not appropriately addressed promptly, many spills and accidents are a staining risk that can damage an area rug permanently.
When dealing with spills and accidents, never scrub the affected area; BLOT ONLY with an approved, neutral pH spotter. "Do It Yourself" and off-the-shelf cleaning products that are not Wool Safe (or authorized for silk) can worsen or permanently set the stain, especially with many village, antique, or other rugs with unstable dyes. If you experience a spill or accident on your area rug, DO NOT RELY ON THE INTERNET for help! We've seen too many clients ruin their rugs because they found a recipe online for removing stains on Oriental rugs. You can refer to our online stain guide by following this link for home remedies.
Pet Urine Accidents And Oriental Rugs
Cat and dog urine is not only smelly; it can burn and stain your rug. And while top-tier rug cleaning professionals can get the smell out, they might not be able to get the stain out. It all depends on your pet's diet, the type of fibers in your rug, and the stability of the rug dye. This is why it's essential to always seek the advice of a professional rug cleaner, like Oriental Rug Salon, who can inspect your rug and give you an honest estimate on how much of the stain they can remove without further damaging your cherished area rug.
Oriental Rug Salon is a full-service rug cleaning, repair, and appraisal company serving clients throughout the United States. We are based in Cape Coral, FL, and offer FREE pick-up and delivery of most rugs throughout Lee, Charlotte, and Collier County.
Oriental Rug Salon is a WoolSafe Approved Service Provider, a Certified Partner with the prestigious Institute of Inspection, Cleaning and Restoration Certification, and the International Carpet & Rug Institute. Our cleaning efforts are performed by hand by skilled professionals who a Rug Master supervises.
For more information on Oriental Rug Salon and our services, please visit us online at www.OrientalRugSalon.com or "call us on the carpet" anytime at 239-424-8171.