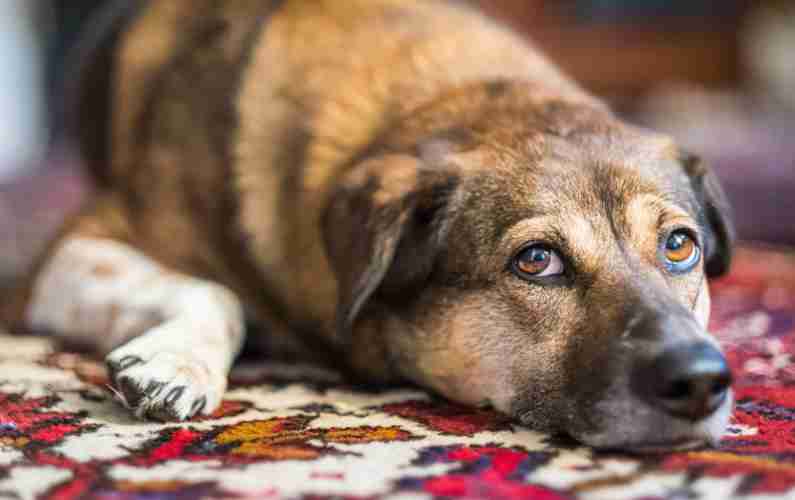 How To Remove Pet Urine From An Oriental Rug
Boy, how we love our pets. Occasionally they will have accidents, and when it happens on your cherished Oriental or Persian area rug, what you do next can determine if the "oops moment" is a no-biggie or a stain that requires professional intervention.
Wool and silk Oriental and Persian area rugs are popular floor coverings because of their uniqueness, sophistication, color, and the beauty they add to any room. The hand-knotted process used to create these detailed "works of art" could have taken months or years of a weaver's life, and each has a story to tell. Because of the dedication to creating these rugs, they aren't "cheap," so knowing how to care for your investment is essential.
The dyes used in dying the wool or silk colors on your rug may be made from vegetables, flowers, or even insects. The bright and vibrant dye pigments remain soluble and stable UNTIL they encounter high alkaline or acidic substances (such as pet urine).
When a pet has an accident on the rug (urine, feces, or throw-up), the dyes are affected by the acid or high alkaline; the rug's colors may migrate or fade. In worse cases, the colors bleed together, distorting the pattern and color vibrancy. The accident can lead to permanent staining if this is not promptly treated.
Home Remedies For Treating Pet Urine, Feces, or Vomit On An Oriental Rug
Accidents happen, and by acting quickly, you may be able to avoid permanent damage to your Oriental or Persian area rug.
Below are a few tips rug owners can use to address pet accidents if caught relatively soon after they occur.
Before trying these remedies, PRE-TEST in an inconspicuous place on the area rug (the back is best) to ensure your dyes are stable enough for home treatment. Stop and call Oriental Rug Salon for advice or professional intervention if you notice any color transfer.
To pre-test, follow the below recommendations. Apply the mixture to a white paper towel, find an inconspicuous area, and press a thumb-size imprint to the rug surface, holding in place for about 30 seconds. Check the paper towel, and if no transfer is seen, you should be safe to proceed.
Clean up the mess as soon as possible. Removing the accident will be more challenging if the urine, vomit, or feces is left too long on the rug and dries. It is best if treatment can be done within 24 hours of the "oops"; otherwise, the smell might linger for a few years, and the dyes can be adversely affected. Use a spoon to scrape as much off as possible when dealing with solids before proceeding with treatment.
Test a small area of the rug by combining warm water with the recommended procedure below. If there is any color transfer to the paper towel, do not continue and call Oriental Rug Salon If there is no color change or fading, you can proceed. Do not rub the rug; blot.
Take 1 cup of warm water and add a few tablespoons of WHITE vinegar. Use this mixture on the rug and blot the area. Apply enough of this mixture to the stain to moisten and work it in with the end of a spoon. Allow the solution to dwell for about one minute and blot, removing as much moisture as possible.
Refrain from using ammonia, bleach, or high pH cleaning products on the Oriental rug.
Allow the rug to dry. It may be necessary to raise the affected area for more airflow to prevent bacteria or mold growth or to avoid moisture if you have a wood or laminate floor. You can use a hair dryer on a warm setting to speed dry or place a fan on the moistened area.
Once dry, sprinkle the area with baking soda and use a broom to agitate the powder into the rug. Let the baking soda sit for a few minutes, then vacuum dry again. Baking soda will help freshen your rug while removing any remaining odor.
Oriental Rug Salon is a full-service Oriental and Persian area rug cleaning, repair, and appraisal company serving clients throughout the United States. Our 6,000-square-foot cleaning facility is located in Cape Coral, Florida, and we provide free pick-up and delivery for most rugs throughout Lee, Charlotte, and Collier County, Florida. We also receive daily shipments from around the country.
Oriental Rug Salon is a Wool Safe Approved Service Provider, certified by the International Carpet & Rug Institute (CRI) and the prestigious Institute of Inspection, Cleaning and Restoration Certification (IICRC). We are A+ Rated by the Better Business Bureau.
For more information about our Oriental and Persian rug cleaning, repair, or appraisal services, please visit us online at www.OrientalRugSalon.com or "call us on the carpet" any time at 239-424-8171. You can also visit us on Facebook at https://www.facebook.com/TruCleanSurfaceCareFL/
Rug Cleaning Videos:
Pet Urine and Oriental Rugs:  https://orientalrugsalon.com/videos/pet-urine-rugs/
Does Rug Fiber Protector Work?  https://orientalrugsalon.com/videos/what-is-protector/