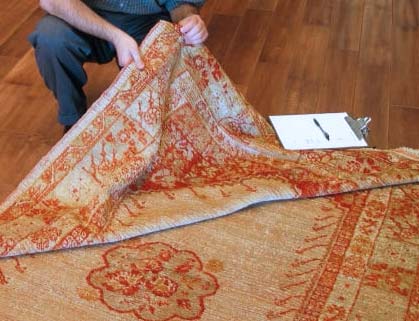 Online Oriental and Persian Rug Appraisal Services
Online Area Rug Appraisal Services
Oriental Rug Salon provides expertise and certification to those who want a definitive appraisal for their beloved Persian, Oriental wool, or silk rugs. It is essential to remember that the value of these kinds of carpets fluctuates based on quality, availability, supply and demand, knot density, age, and condition. Therefore one should always be aware that market conditions can make prices soar or plummet at any given time.
According to conventional definitions, a Navajo rug is evaluated similarly to an Oriental rug – hand-knotted and woven techniques craft both. As such, any assessment of these rugs will adhere to the same standards and criteria that would be used for other handmade area rugs.
Do you know the true worth of your Oriental, Persian, or Turkish rug? Its age and origin are powerful determinants of its monetary value, as is its quality of workmanship, size, and materials used. Understanding what it is truly worth is more than just a price tag; if inherited, bought from an individual or dealer – or acquired through other means – getting a rug valuation will benefit you.
Not only is it essential to know your rug's market value or replacement cost, but it's also just as critical to be aware of its background, estimated age, and any other relevant details an expert can give.
Insurance
Whether it's for insurance purposes or personal reasons, Oriental Rug Salon is committed to providing you with the highest possible replacement value for your rug. In the unfortunate event that your rug becomes irreparably damaged – whether due to fire, flood, or any other means – we guarantee that you will receive maximum compensation from your insurance company so as not to burden you and your loved ones.
Private Sale Or Auction
Are you considering selling a gorgeous Oriental, Persian, or Turkish rug? It is essential to know the current market value and get it appraised by an expert beforehand. Potential buyers can gain insight into its worth and other critical details through our appraisal process to help you secure the highest price possible.
Charitable Contributions
Over the years, we have performed many appraisals for customers who wished to donate their antique rug to a museum, non-profit organization, or charity for a tax deduction. Suppose you're interested in making such a charitable contribution and wish to be able to include it on your taxes as proof of its worth. In that case, you'll need an appraisal that accurately reflects the value of your donation.
Thinking About Purchasing A Rug
When interior designers and potential rug buyers seek our services to evaluate the fair market value of an Oriental rug they wish to purchase, we are always happy to oblige. With the knowledge you gain from us, you can ensure that you don't overspend on a rug or use our appraisal as leverage for negotiation purposes. You would be surprised how much money clients have saved with our help!
How Rug Appraisals Are Performed
When determining the value of an area rug, our rug master takes into consideration the values mentioned above, along with research that consists of the following:
Current market value as researched using vetted online resources
Auction "sold" prices of previous items auctioned
The opinions of vetted rug collectors and Oriental rug shops
Consultation with experts in the industry when needed
Based on firsthand knowledge, certification, and experience of the rug master
Information gathered from public and private sales
What will I receive after my valuation?
Client requesting a rug valuation will receive a two-page report outlining the following:
The date of the evaluation
The type of rug presented for evaluation
The area upon which the area rug originated
The material makeup of the rug
A description of the rug
The rug's approximate age
The area rug size
Additional information, such as pattern and technique
The estimated value at auction and insurance value
Side notes of the rug master
An image of the area rug
The Rug Master's signature and raised seal
Oriental Rug Salon's appraisal services are relied upon by insurance companies, the state court systems, Oriental and Persian retailers, auction and estate liquidators, and rug owners desirous of the appraised value and history of their cherished area rug.  We perform appraisals nationwide.
For more information about Oriental Rug Salon's online appraisal services, please visit us online at https://orientalrugsalon.com/ or give us a call any time at 239-424-8171.  You can also visit us on our Facebook Page at https://www.facebook.com/OrientalRugSalon/