BEWARE Of Carpet Cleaners When Caring For Your Oriental Rug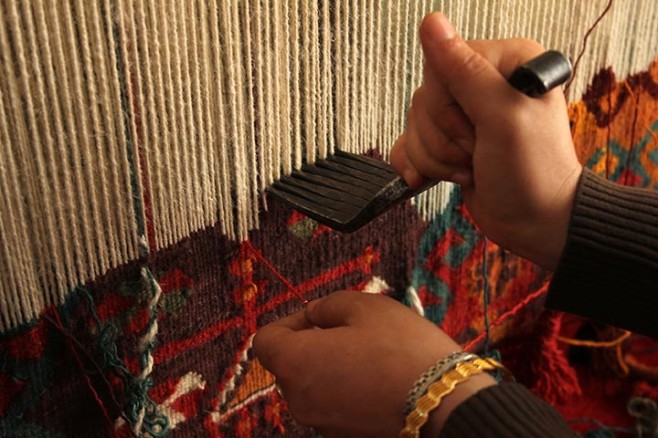 When you buy a hand-knotted rug, this means that a skilled weaver individually tied every knot, this creating a one-of-a-kind handmade rug. That is what makes hand-knotted rugs so special, and that is what makes them so much more expensive than all other types of area rugs. Depending on how many knots are in each square inch (50 to 160 knots per inch is typical, 400 per square inch is remarkable), it can take more than a year for one weaver to complete a 9×12 rug.
Wool, silk and cotton are the three primary materials that are used to make a hand-knotted rug. Wool is the most used material. New Zealand and South Korean wools are often mixed with local wools because they have more lanolin, which adds sheen, strength and suppleness. Silk is used primarily for accent because it is not as strong and is more expensive. Cotton is sometimes used in the foundation, but is not seen in the pile. The combination of these materials makes for an extremely strong rug.
If the price of a silk rug sounds too good to be true, the rug is probably made of cotton or rayon. Ask the rug merchant to pull a strand of thread from the rug and burn. If it's silk, it will smell like burning hair. Burned rayon and cotton will smell like burned paper.
Hand-knotted rugs can withstand high traffic, and will begin to wear down after 20 or more years of use. High traffic areas include hallways, family room and entryway. Medium traffic areas include the dining room and home office. Low traffic areas include bedrooms and formal living room.  A properly cared for hand-knotted rug should last several generations.
Oriental Rug Salon is a Certified Partner with the prestigious Institute of Inspection, Cleaning and Restoration Certification (IICRC) and the international Carpet & Rug Institute.  In addition we are A+ rated with the Better Business Bureau and Angie's List and our technicians are certified by the world's most respected certification body for textile professionals.
When having your beautiful Oriental, wool or silk area rug cleaned NEVER allow a carpet cleaning company to clean the rug in your home.  For one thing, they can never clean the rug as thoroughly as a dedicated rug shop and you'll just end up with a surface clean with the deep set dirt and oils returning in a couple of days.  Another thing to be cautious about is allowing a carpet cleaning company the opportunity to take your rug to "their shop" for cleaning."  Very few carpet cleaning companies own dedicated rug cleaning plants and chances are they'll take your rug to their shop and throw it in the driveway for a quick once over.
If you ever have any questions about your Oriental, wool or silk area rug please feel free to give us a call at any time and we'll be happy to talk shop with you.  Our web address is www.OrientalRugSalon.com and our telephone number is 239-541-4888.
———————————
Oriental Rug Salon specializes in the care, repair and presentation of Oriental, wool, silk and synthetic area rugs.
Oriental Rug Salon provides Oriental area rug cleaning services throughout the cities of Naples | Bonita Springs | Estero | Fort Myers | Cape Coral | Sanibel | Lehigh Acres | North Fort Myers | Fort Myers Beach | Punta Gorda and Port Charlotte Fl.