Dry Soil – The Kiss of Death to Oriental and Persian Rugs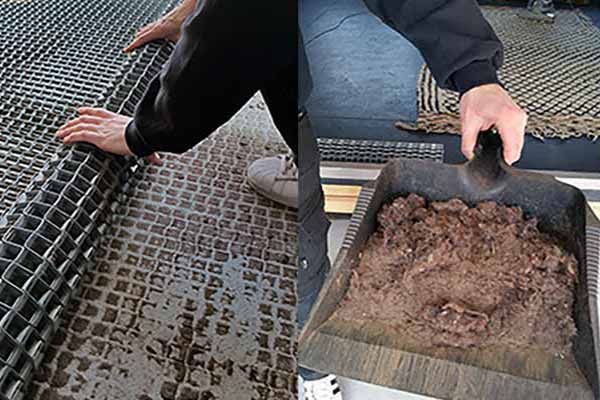 Dry soil removed from area rug after vacuuming
On an annual basis Oriental Rug Salon cleans thousands of area rugs and in every single instance, no matter how often an area rug was vacuumed by its owner, we are able to remove an astonishing amount of dry soil prior to the submersion cleaning process.
Dry soil, sand, pollen and dust mites are allergens trapped in every area rug.  With regular vacuuming, the homeowner can remove "some" of these impurities, but many are trapped in the area rugs foundation where they'll remain until professionally removed.
When cleaning an area rug, one of the first steps to ensure a quality washing it to make certain dry soil, sand, etc. is removed from the foundation of the rug.  Rug owners should vacuum their area rugs regularly to prevent "sanding" and "traffic lanes" from appearing.
At Oriental Rug Salon, we utilize the power of the RugBadger; a device designed to deliver over 40,000 harmonic vibrations per minute to an area rug.  These harmonic vibrations help to completely separate sediments and other harmful elements from your rugs foundation while preparing it for a salon bath.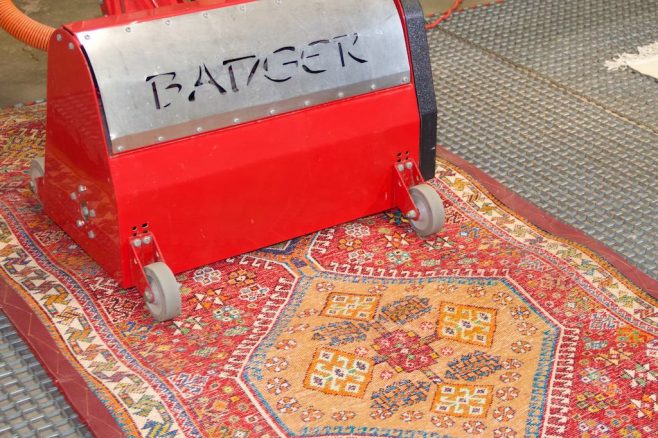 With these elements removed (see examples), we have the confidence in knowing that once your area rug receives a thoroughly exhaustive full submersion cleaning, it can be returned as clean as humanly possible.
You see, dry soils and sand act as sandpaper to the fibers of your cherished rug.  As we walk across the area rug, the trapped contaminants scratch the fibers of the rug and will cause traffic lanes and fiber distortion.
With proper dusting and cleaning, coupled with regular vacuuming and repositioning your area rug (simply rotating it every six months) you'll greatly extend the life and beauty of your textile for decades to come.
Oriental Rug Salon is a full-service Oriental, wool and silk area rug cleaning and repair facility serving clients nationwide.  We are honored to be the "cleaner of choice" to many of our areas leading interior designers, realtors, floor covering specialists, rug collectors and clients who simply love and cherish their Oriental, wool and silk area rugs.
We are a Certified Partner with the prestigious Institute of Inspection, Cleaning and Restoration Certification (IICRC) and the International Carpet & Rug Institute (CRI).  In addition, we are A+ rated with the Better Business Bureau and a four-year-in-a-row-winner of the coveted Angie's List Super Service Award.
From thoroughly exhaustive cleaning to quality repairs and evaluations, you can count on Oriental Rug Salon for your cherished area rug needs.
For more information on Oriental Rug Salon, please visit us online at www.OrientalRugSalon.com or call us anytime at 239-424-8171 (Lee and Collier County) or 941-893-1655 (Punta Gorda, Port Charlotte, and Sarasota FL).
Please LIKE US on Facebook to receive tips and money-saving coupons on cleaning services and repairs.  Our Facebook address is:  https://www.facebook.com/OrientalRugSalon/ 
---
Oriental Rug Salon | Area Rug Cleaning | Wool Area Rug Cleaning | Silk Area Rug Cleaning | Synthetic Area Rug Cleaning | Oriental Rug Repair | Fringe Repair | Pet Urine Treatment for Oriental Rugs | Persian, Oriental, Wool and Silk Area Rug Valuations and Appraisals
Oriental Rug Salon services Cape Coral, Fort Myers, Estero, Bonita Springs, Naples, Marco Island, Sanibel, North Fort Myers, Fort Myers Beach, Lehigh Acres, Punta Gorda, Port Charlotte, Sarasota, Alva, Buckingham, Matlacha, Bokeelia, Saint James City
Oriental Rug Salon also receives area rugs in need of a thorough cleaning from clients nationwide.