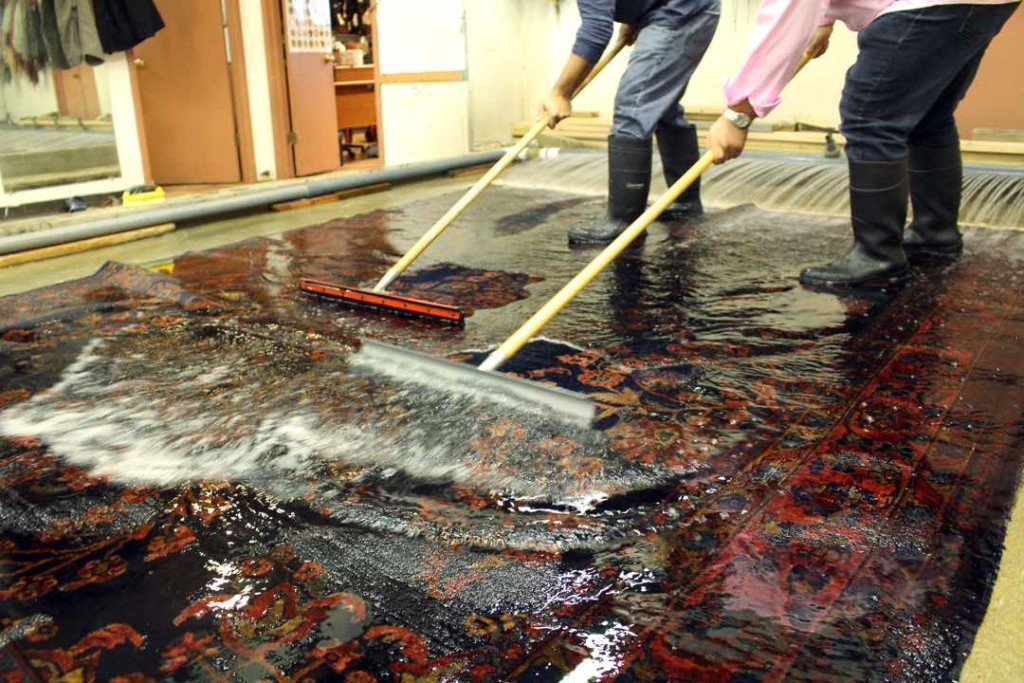 Area Rug Cleaning – Dirt and Viruses
Area rugs can harbor a great deal of dirt, viruses, and germs, especially at times like these, when we are all stuck at home. From everyday household allergens to dirt, bacteria, and viruses, a dirty rug can impact the health of your household.
An area rug can hold pounds of dirt, dust mites, and allergens before it starts to look dirty.  No matter how powerful your vacuum cleaner is, it will never remove contaminants that are stuck in the foundation of your cherished area rug.  As a result, it is essential to have your rug cleaned by a professional cleaner at least once a year to preserve the beauty of your Oriental, Persian, or Turkish rug while improving indoor air quality.
If someone in your household is sick and your rug has been in contact with bodily fluids (either human or animal), you need to have the rug immediately cleaned and sanitized. In times like these, thorough cleaning of your rug is not a luxury but an essential. If the rug covers your entire floor, then getting it pressure cleaned (click here now for services that offer pressure cleaning) will add a rich touch to your home.
Our cleaning process involves sanitizing your rug, so you can rest assured of a thoroughly exhaustive cleaning.
At Oriental Rug Salon, we have a multi-step approach to our rug cleaning services. Because each rug goes through a 24-hour inspection process and each is washed by hand, we can assure our clients of the best cleaning results possible.
We carefully inspect all rugs to note the exact cleaning requirements specific to the fibers of the rug. We also test for colorfastness and note any particular stains and odors.
Before cleaning, we thoroughly dust, vacuum, and agitate all rugs to remove as much dry soil and contaminates as possible. Each textile is then pre-treated for stains and odors. Our cleaning solutions are water-based, allergen-free, and bio-degradable, and as close to ph-neutral as possible.
When cleaning area rugs, approximately 98% of the rugs trusted to Oriental Rug Salon are washed in full submersion to deliver the cleanest result possible.  Our technicians apply pH adjusted shampoo and gently massage it into the rug using horsehair bushes. This step assists in removing dirt and stains while being as gentle as possible with the cleaning. After cleaning, we introduce a pH conditioned rinse to wash away dirt particles and shampoo. We then extract most of the moisture from the area rug.
Rugs are laid down on a specialty air table in our climate-controlled drying area. All rugs are moisture tested using meters before being removed, and drying may take up to 48 hours, depending on the rug's composition.
Our team hand-cleans fringes and inspects each rug for any other areas requiring attention. We then vacuum and groom your rug. Our team also treats silk rugs in unique proprietary ways to ensure your rug retains its natural silk finish and feel. Finally, we roll the area rug and prepare for delivery.
Oriental Rug Salon is a Certified Partner with the international Carpet & Rug Institute (CRI) and the Institute of Inspection, Cleaning, and Restoration Certification (IICRC).  In addition, we are a WoolSafe Approved Service Provider.  All cleaning efforts are performed by hand, and our technicians are experienced and certified in their craft.
For more information about our Oriental, wool, and silk area rug cleaning services, please visit us online at www.OrientalRugSalon.com or "call us on the carpet" anytime at 239-424-8171.
You can also visit us on Facebook at https://www.facebook.com/OrientalRugSalon
Oriental Rug Salon offers FREE pick-up and delivery of most rugs throughout the cities of Cape Coral, Fort Myers, Estero, Naples, Bonita Springs, Marco Island, Sanibel, Captiva, Lehigh Acres, North Fort Myers, Fort Myers Beach, Punta Gorda, Port Charlotte, Alva, Buckingham, Matlacha, Saint James City, and Bokeelia Florida