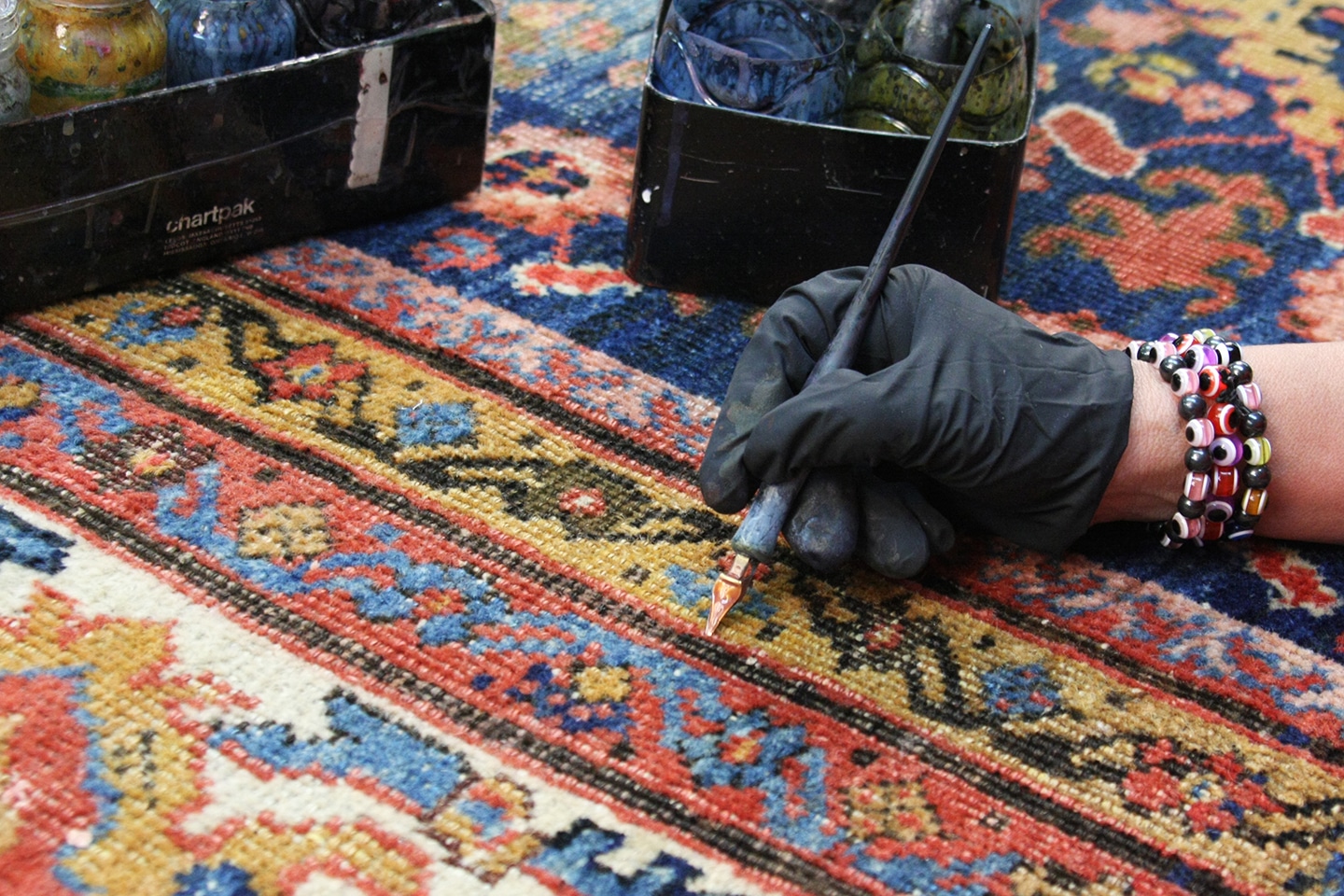 Hurricane Ian, Water Intrusion and Oriental Rugs
If Hurricane Ian has left behind an Oriental or Persian rug with dye migration, you may have noticed the colors bleeding, running, or fading. Wonder how this happened and what can be done to fix it? This article explores two of your most pressing questions: why do the dyes migrate, and is there any way for restoration?
Let's take the first question first: why do rug colors bleed? Let's review some common reasons:
Fugitive dyes: A "fugitive dye" describes rug colors that run or fade during washing and cleaning or when exposed to ultraviolet rays. Movement of dyes means that the dye is unstable enough that prolonged exposure to floodwaters will cause the rug to "bleed."
Excess dyes: This issue will be familiar to people who own tie-dye clothing or new clothes with unstable dyes and have washed them in their washing machines. There may be color runoff when you wash a new rug for the first time. Another reason rug colors may bleed is if dyes were added to an antique rug to give it a fresh, revitalized look or if the rug contains pet urine or color correction dyes.
Chemical residue: Many in-home rug cleaning solutions leave a residue that often interacts poorly with acid-based dyes, particularly those found in wool rugs. As a result, the rug's colors will bleed despite seeming "clean." For this reason, we advise having your rug cleaned by a certified professional, especially if it's an antique, wool, or silk rug made from natural fibers.
Other reasons that cause rug color bleeding include high heat (think carpet cleaning companies), high alkalinity, and urine. For this blog post, we'll regard these as secondary factors that don't specifically relate to flooded or water-damaged rugs.
Remember that different rug types have distinct structural issues and thus require particular solutions. With that said, any rug restoration expert worth their salt will know your rug's unique challenges and be equipped to reverse color bleeding issues if possible.
Before taking your rug in for professional restoration, we suggest doing the following:
Take clear pictures of your water-damaged rug. This serves two purposes. One, it provides a rug care expert with a clear look at the bleeding colors, and two, it enables you to collect damages from your insurance company potentially should the rug restoration fail to return the piece to its former glory.
In the event of a flood, it is essential to have your area rug comprehensively examined by an expert who won't underestimate even the most minor details! A photo taken before flood damage is also valuable so that restoration specialists can precisely determine what harm was caused by floods and any other forms of wear and tear. Having a "pre-damage" photograph will also help with a potential insurance claim.
Before committing to any rug restoration work, be sure to have your Oriental or Persian rug appraised by a professional. This will make it more likely for you to access financial resources to restore your rugs' colors if your insurance company is involved. Usually, the appraisers who do these tasks are based in the same shop as the restoration specialist and operate independently from each other not to create any conflict of interest issues between them professionally.
It is essential to be aware that red dyes are prone to color bleeding. Not all such hues will necessarily bleed, as some can be more resistant than others. Generally speaking, the most common causes for this phenomenon involve poor dyeing techniques or low-grade dyes. Other factors leading to fading include immersion in hot water, contact with bleach and harsh alkaline products, and juxtaposing deep tones (such as many shades of red) alongside lighter colors (particularly whites).
When it comes to rug restoration, removing bleeding colors is one of the more challenging tasks. So don't be alarmed if your waterlogged rug may not make it through. If you have a low-cost, mass-produced rug, it may be less expensive to replace it with something new. However, try to have the rug professionally restored when dealing with an antique or precious rug that can't easily be replaced. If that fails, turn it into your insurance company for settlement per your policy.
For more information, contact Oriental Rug Salon. We'll provide the information you need to restore your rug's colors to be as good as new or offer appraisal services as necessary.
Oriental Rug Salon is a WooSafe Approved Service Provider, certified by the Institute of Inspection, Cleaning and Restoration Certification, and a Certified Partner with the prestigious Carpet & Rug Institute (CRI).
For all of your Oriental and Persian area rug cleaning, repair, or appraisal needs, your area rug is in good hands. For more information about Oriental Rug Salon, please visit us online at https://orientalrugsalon.com/ or "call us on the carpet" any time at 239-424-8171.
Oriental Rug Salon offers free pick-up and delivery for most area rugs throughout Lee, Collier, and Charlotte County, Florida, and we service clients throughout the United States.