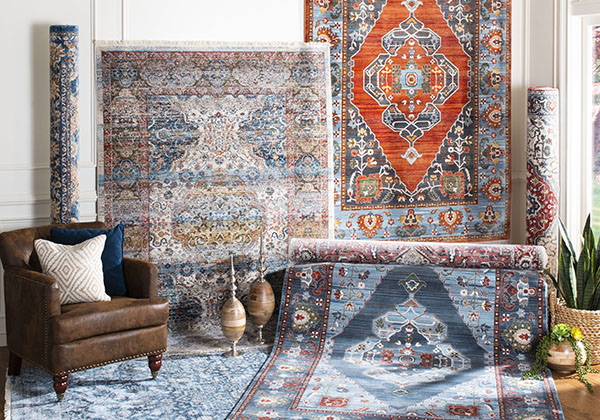 Myths About Oriental Rug Cleaning
Oriental and Persian area rugs are beautiful and valuable investments that can last for generations when properly maintained. Unfortunately, there are many myths and misconceptions surrounding the cleaning and care of these rugs, which can lead to damage, discoloration, and other issues. This blog post will discuss some common Oriental and Persian area rug cleaning myths and why you should have your cherished rug cleaned by a professional Oriental rug cleaning service like Oriental Rug Salon.
Myth #1: Vacuuming is Enough to Clean an Oriental or Persian Area Rug
Vacuuming is essential to maintaining an Oriental or Persian area rug, but it is not enough to deep clean it. Over time, dirt, dust, and other debris can accumulate deep within the rug's fibers, which can damage the fibers and cause discoloration. Professional rug cleaning services use specialized equipment and cleaning solutions to remove these deep-seated contaminants and restore the rug's beauty and integrity.
To correctly vacuum your cherished area rug at home, gently sweep the surface with a broom to agitate and dislodge contaminates and then gently vacuum with a vacuum cleaner with the beater bars turned OFF.
Myth #2: All Cleaning Products Are Safe for Oriental and Persian Area Rugs
Many household cleaning products contain harsh chemicals that can damage the delicate fibers and dyes of Oriental and Persian area rugs. Some cleaning products can cause color bleeding, fading, or discoloration, while others can weaken the rug's structure. At Oriental Rug Salon, we use gentle, eco-friendly cleaning solutions specifically designed for Oriental and Persian area rug wool or silk fibers, ensuring they are safe and effective.
We wash over 95% of all area rugs in a cold bath using the appropriate pH-controlled cleaning solutions and spotters and gently wash both sides of the rug and fringe with a soft horse hair brush. Rugs are washed one at a time, and the bath is adjusted depending on the textile being cleaned. We then rinse them with a pH-controlled cold rinse and then move them to an air table to dry.
Myth #3: Oriental and Persian Area Rugs Can Be Cleaned at Home
While it may be tempting to clean your Oriental or Persian area rug at home, it is not recommended. Home cleaning methods, including carpet cleaning companies, steam cleaning wool, or silk area rugs in the home, are often ineffective and can cause damage to the rug fibers or foundation. Additionally, improper cleaning techniques can cause color bleeding, fading, and other issues that can ruin the rug's value and beauty. Professional Oriental rug cleaning services have the expertise and equipment to clean your rug safely and effectively, ensuring that it retains its value and beauty for years.
Myth #4: Certain Rugs Can Not Be Washed
There's a big misconception that certain rugs cannot be safely immersion cleaned. This is probably the Number One misconception there is. Think about it this way, for hundreds of years, and even today, many Persian and Oriental rugs are washed in moving bodies of water (creeks, rivers, and streams) because that's the only choice many providences have in Iraq, Afghanistan, etc. Their rugs are almost certainly vegetable dyed and prone to running IF the person cleaning the carpet doesn't know what they're doing.
Oriental and Persian rugs that need a bath MUST be submerged washed if the rug owner expects a thorough cleaning. The professionals at Oriental Rug Salon deal with "bleeders" (rugs with dye migration) every day.
Dye migration occurs for many reasons, from spills or animal urine to high humidity. Once dye migration begins, these rugs often require a full immersion wash (including a specialist strip wash) to remove the pre-existing dye migration. Our professional rug technicians can treat most bleeding issues to prevent dye migration while stripping our already bled dyes.
Very few rug cleaning professionals in SW Florida can safely wash rugs with loose dyes. If you're told by "a professional" that your rug can't be submerged washed, get a second opinion.
Why Choose Oriental Rug Salon for Your Area Rug Cleaning Needs?
At Oriental Rug Salon, we understand that your Oriental or Persian area rug is a cherished investment that deserves the highest level of care and attention. That's why we offer professional rug cleaning services, including deep cleaning, stain removal, restoration, storage, and appraisal services.
Our team of highly trained technicians supervised by a Rug Master uses Gold Certified and eco-friendly cleaning solutions to clean and ensure your rug's safety, ensuring that it looks and feels phenomenal. Additionally, we offer free pickup and delivery services for most rugs throughout SW Florida to make the rug cleaning process as easy and convenient as possible for our clients.
Oriental Rug Salon is a full-service Oriental and Persian rug cleaning company serving clients throughout the United States. We are located in sunny Cape Coral, Florida. We are the "cleaner of choice" to many interior designers, floor covering specialists, Oriental rug retailers, insurance companies, rug collectors, and rug owners who cherish their area rugs and want to ensure they receive the best care possible.
Oriental Rug Salon is a WoolSafe Approved Service Provider, a Certified Partner with the Institute of Inspection, Cleaning and Restoration Certification (IICRC) and the International Carpet & Rug Institute (CRI). Our cleaning solutions are allergen-free and safe for pets and infants.
For more information about Oriental Rug Salon and our services, please visit us online at https://orientalrugsalon.com/ or on Facebook at https://www.facebook.com/OrientalRugSalon/. You can also contact us at 239-424-8171.