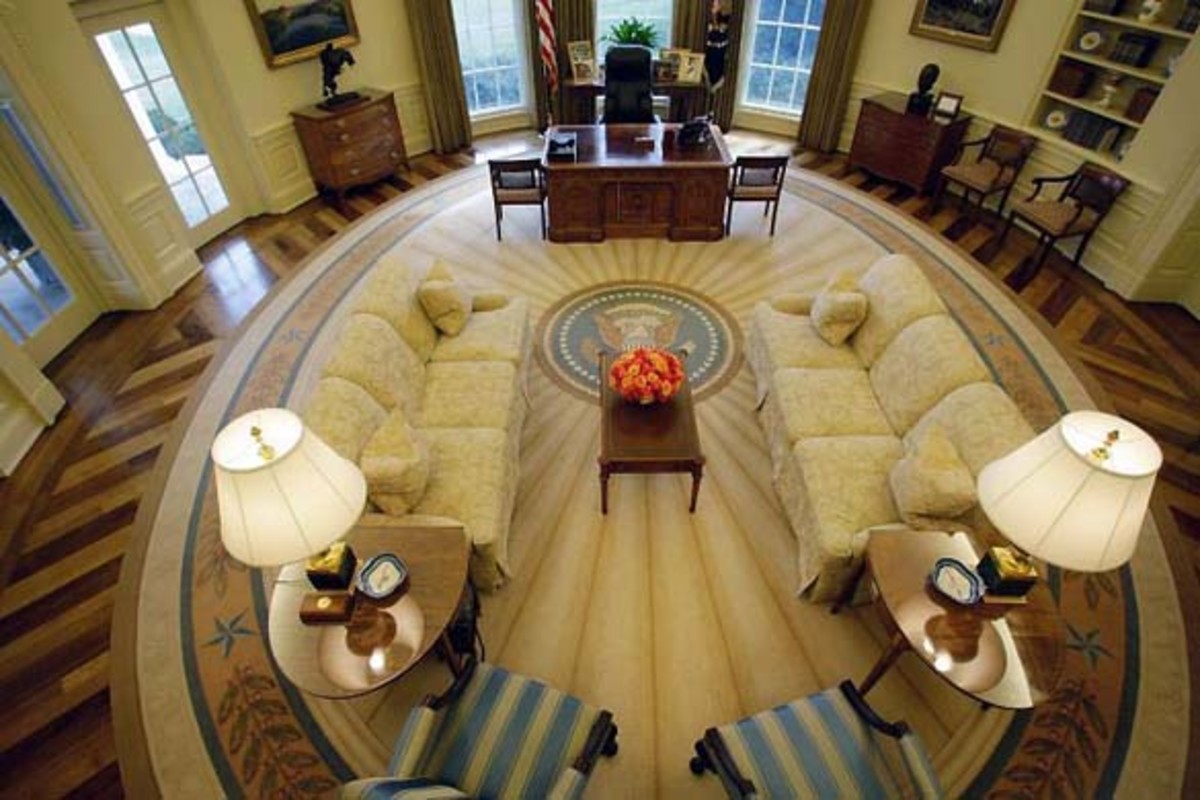 What Is A Heriz Area Rug – George Bush Had One.
When it comes to choosing the perfect rug for your home, there are many different options available. One type of rug that has become increasingly popular in recent years is the Heriz area rug. With its unique design and rich history, it's no wonder this type of rug is a favorite among homeowners and world leaders alike.  Just ask Presidents Bush, Obama, and Clinton.
The history of the Heriz area rug can be traced back to the late 19th century in the northwest region of Iran. Heriz is a small town located in the Azerbaijani region, known for producing some of the finest handmade rugs in the world. The Heriz rug is a type of Persian rug, and it is known for its distinctive geometric designs and vibrant colors.
One of the reasons why the Heriz area rug is so popular is because of its durability. These rugs are made with a thick, heavy wool pile that is tightly woven together. This makes them incredibly resilient and able to withstand heavy foot traffic, making them an excellent choice for high-traffic areas such as hallways and living rooms.
In addition to their durability, Heriz area rugs are known for their unique designs. Unlike other Persian rugs that tend to have intricate floral patterns, Heriz rugs feature bold geometric designs with large, central medallions. The tribal art of the area often inspires these designs, and they can add a touch of exoticism to any home.
Another reason the Heriz area rug is popular for homeowners and business leaders is its versatility. These rugs come in various sizes, colors, and designs, making them easy to incorporate into any decor scheme. Whether you have a modern or traditional home or happen to live in the White House, there is a Heriz rug that will complement your space.
One of the most famous examples of a custom Heriz area rug is the rug that sits in the Oval Office of the White House. This rug, which former First Lady Laura Bush designed, features a central medallion and a border of acanthus leaves. It is a beautiful example of the timeless elegance of Heriz rugs, and it has become a symbol of American presidential history.
The Heriz area rug is a popular choice for homeowners for various reasons. Its rich history, unique designs, durability, and versatility make it an excellent choice for any home. Whether you are looking for a rug to add warmth and texture to your living room or a statement piece for your office, a Heriz area rug is sure to impress.
Oriental Rug Salon is a full-service Oriental and Persian area rug cleaning, repair, restoration, and appraisal company serving clients throughout the United States. Our 6,000 sq. ft. plant is located in Cape Coral, Florida, and we offer free pick up and delivery for most rugs throughout Lee, Collier, and Charlotte County.
We are the "cleaner of choice" to many rug collectors, interior designers, Oriental and Persian rug retailers, and rug owners who cherish their area rugs and want the best service and cleaning available. Our cleaning services are performed by hand under the watchful eye of a Rug Master. We are a certified WoolSafe Approved Service Provider, the prestigious Institute of Inspection, Cleaning and Restoration Certification (IICRC), and the International Carpet & Rug Institute (CRI).
For more information about Oriental Rug Salon, please visit us online at https://orientalrugsalon.com/ or call us any time at 239-424-8171. You can also visit us on our Facebook Page at https://www.facebook.com/OrientalRugSalon/