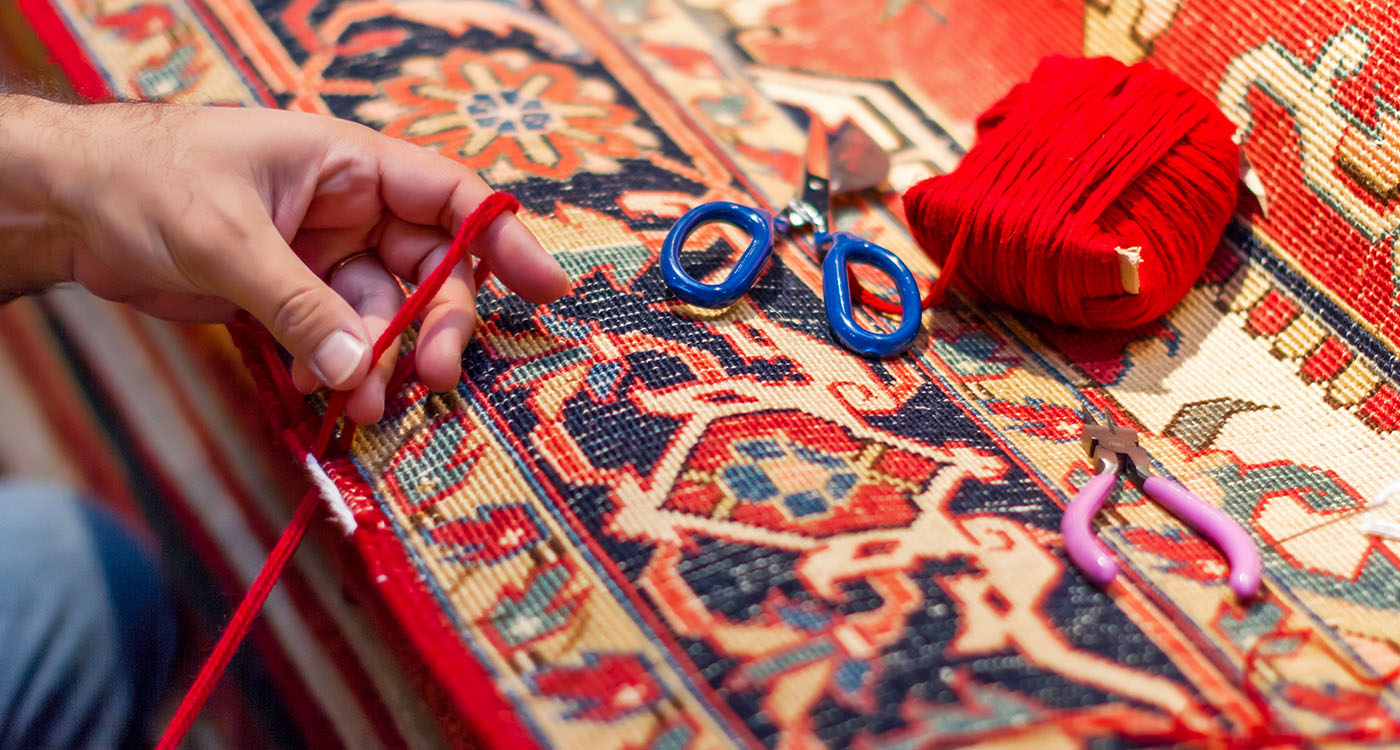 Oriental Rug Cleaning – Specialist or Carpet Cleaning Company?
Oriental and Persian rugs are more than just floor coverings – they're art pieces, rich in history and craftsmanship. Entrusting their care to a carpet cleaning company or "just anyone" can lead to irreversible damage.
Why Regular Carpet Cleaners Just Won't Do
Carpet cleaning companies, while effective for regular carpets made of nylon or other manmade materials, are not suited for delicate wool or silk rugs. Their general cleaning techniques could:
Strip Natural Oils: Regular methods might strip wool and silk of their natural oils, causing them to become brittle and lose their luster.
Cause Discoloration: Harsh chemicals can react adversely with the natural dyes of these rugs, leading to fading or discoloration.
Shrinkage or Dry Rot: Most carpet cleaning companies use steam to clean carpeting.  Steam used on delicate wool or silk fibers can cause many issues, including dye migration, shrinkage, or dry rot if the rug is not dried correctly.
Unable To Deep Clean: It is impossible to thoroughly clean a wool or silk area rug in the home. To effectively clean an Oriental or Persian area rug "through-and-through," the rug must undergo a dye migration test, go through a dusting process, a full submersion bath, a pH-controlled rinse, and a temperature-controlled drying. These processes can only be performed in a specialty rug-cleaning plant.
The Oriental Rug Salon Difference
Our specialists at Oriental Rug Salon don't just clean Oriental and Persian area rugs; we preserve them. Our unique approach considers:
Understanding the Rug's Origins: Our technicians know the unique cleaning needs based on a rug's origin, age, and fiber type.
Prioritizing Gentle Techniques: Avoid batch washing machines found at many high-production plants. We choose hand cleaning to maintain the fabric's integrity and color.
Benefits of Using an Oriental Rug Salon Cleaning Specialist
By choosing a specialist such as Oriental Rug Salon, you're not just cleaning your rug but investing in its longevity for decades to come.
Preserving Rug Value: Proper care ensures that the rug remains an asset, holding its market and sentimental worth.
Avoiding Damages and Discolorations: Our rug cleaning specialists ensure our methods won't harm the fabric or its beautiful patterns. Each rug goes through a 24-hour dye migration test to ensure the colorfastness of the dyes.  We photograph each rug and send our client a report before any work is initiated.
Prolonging Rug Lifespan: Our delicate and careful handling means your cherished rug will remain in your family for generations to come.
Oriental Rug Salon is a full-service Oriental and Persian area rug cleaning, restoration, repair, and appraisal company serving clients throughout the United States. Our 6,000 sq. ft. cleaning company is in Cape Coral, FL, and we offer FREE pick-up and delivery for most area rugs throughout Lee, Collier and Charlotte County, Florida.. We are a Certified Partner with the prestigious Institute of Inspection, Cleaning, and Restoration Certification (IICRC), the International Carpet & Rug Institute (CRI), and a WoolSafe Approved Service Provider.
For more information about Oriental Rug Salon and the rug cleaning, repair, and appraisal services we offer please visit us online at https://orientalrugsalon.com/ or give us a call at 239-424-8171.  You can also visit us on Facebook at https://www.facebook.com/OrientalRugSalon/
If you'd like to chat with us online, look for the "Have A Question" button at the lower right hand side of any page on our website and a technician will chat with you live between the hours of 8 AM thru 5 PM Est.