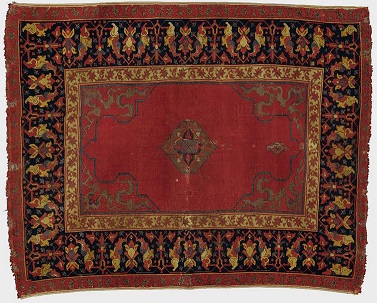 Discover the Legacy of Oushak Turkish Rugs: A Collector's Treasure
Why Collectors and Rug Lovers Crave The Oushak Turkish Area Rug
Oushak rugs, originating from Uşak, Turkey, are renowned for their sophisticated designs and vibrant colors, making them a prized possession for many rug lovers and collectors. These rugs have held a significant place in the rug weaving industry due to their unique characteristics, versatility, and the meticulous craftsmanship involved in their creation.
Origin & Early Development of the Oushak Carpet
Oushak rugs date back to the Ottoman Empire, flourishing in the 15th century. These rugs were sought after even in the early periods due to their high-quality wool and luminous dyes, reflecting the region's rich cultural tapestry. The elegance and quality of Oushak rugs led to their popularity spreading across continents, influencing rug designs in Europe and beyond and becoming treasured items in many households and collections.
Characteristics of Oushak Rugs
Design and Pattern:
Oushak rugs are renowned for their distinctive, large-scale motifs and soft, muted colors, primarily in shades of cinnamon, terracotta, and gold, representing a unique aesthetic different from other Oriental rugs. Woven with high-quality wool, these rugs employ the Ghiordes knot, known for its durability and fineness, making Oushak rugs resilient and a testament to the weavers' unparalleled skills.
The wool used to weave Oushak rugs is of the highest quality, giving the rugs a silky feel and more shine than wool rugs usually display. Oushak rugs come from Turkey but are heavily influenced by Persian styles.
Rarity and Antique Value:
Oushak rugs, due to their historical significance and timeless designs, hold immense value and are often considered investment pieces, growing in worth over time.
At a recent auction, an antique Oushak from the 17th century sold for $158,500. Hundreds of years after its construction, the rug was still vividly colored in reds, dark navy, and gold.
The rug was described by Christie's as "(This carpet) represents one of the finest forms of classical Western Anatolian weaving traditions…the double niche is boldly defined by the spandrels which encompass lively cloudbands and could conceivably represent the four quadrants of a medallion, each relegated to its own corner."
Aesthetic Appeal and Versatility:
The unique designs and harmonious color palettes of Oushak rugs complement various interior styles, from traditional to contemporary, making them a versatile choice for decorators and homeowners. Genuine Oushak rug made today are just as beautiful and collectible as those woven decades or centuries ago.
Oriental Rug Salon – SW Florida's Trusted Oriental and Persian Rug Cleaning and Appraisal Company
Oriental Rug Salon is a full-service Oriental and Persian area rug cleaning, repair, and appraisal company serving clients throughout the United States.  Located in Cape Coral, Florida, our 6,000-square-foot facility is staffed by experienced-certified textile professionals supervised by a Rug Master.  We can clean and repair any rug style and age and offer secure storage and appraisals.
For more information about Oriental Rug Salon, please visit us at https://orientalrugsalon.com/ or call us any time at 239-424-8171.  We offer FREE pick-up and delivery for most area rugs throughout Lee, Collier, and Charlotte County, Florida. You can also visit us on Facebook https://www.facebook.com/OrientalRugSalon/ 
Oriental Rug Salon is a Certified WoolSafe Approved Service Provider, a Certified Partner with the prestigious Institute of Inspection, Cleaning and Restoration Certification (IICRC) and the International Carpet & Rug Institute (CRI).
Oushak Area Rugs – Timeless Appeal
The legacy and allure of Oushak Turkish rugs are undeniably profound, symbolizing centuries of cultural heritage and craftsmanship. Whether you're a seasoned collector or a newfound rug enthusiast, exploring the world of Oushak rugs promises a journey filled with historical richness and aesthetic delight.