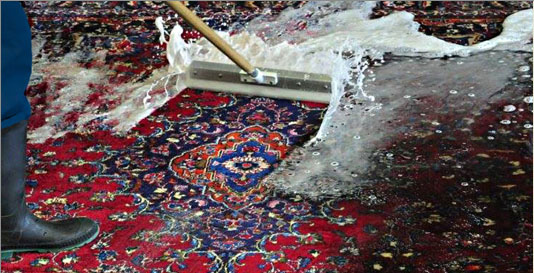 Professional Rug Cleaning For Oriental Rugs
Welcome to the World of Oriental Rug Cleaning!
The beauty and intricacy of Oriental and Persian rugs are unparalleled. However, to maintain their splendor, a professional touch is crucial. Oriental Rug Salon is your go-to specialist in SW Florida for Oriental and Persian area rug cleaning, ensuring your prized possessions receive the care they deserve!
Why Choosing a Reputable Rug Cleaning Company Matters
Value Preservation:
Selecting a reputable rug cleaning company is crucial to maintaining the value of your Oriental and Persian rugs. A knowledgeable and experienced cleaner like Oriental Rug Salon ensures that your rugs' delicate fibers and dyes are preserved, maintaining their beauty and worth. Professional care can guard against rug shrinkage, dye migration, and other disasters due to improper cleaning.
Detailed and Specialized Rug Cleaning Process:
Oriental and Persian rugs require a detailed and specialized cleaning process due to their intricate designs, construction, fiber type, and dye applications. An experienced company like Oriental Rug Salon understands the intricacies and provides a meticulous cleaning process tailored to each rug's unique needs. Understanding the care of cherished rugs better than most, our technicians wash rugs one at a time in a clean bath specific to that rug's needs. We use pH-controlled cleaning solutions, and rinses and rugs are dried in a climate-controlled drying room. Once the area rug is dried, it is inspected by our rug master, and upon his final approval, the rug is groomed and prepared to go home.
Authentic Repair and Restoration:
Oriental Rug Salon offers genuine repair and restoration services, restoring your rugs to their original glory. We have the expertise to handle various repairs, ensuring the authenticity and integrity of your rugs are maintained.
Oriental Rug Salon's Expertise
Industry Recognition:
Oriental Rug Salon is the cleaner of choice for many leading interior designers, rug retailers, and collectors in SW Florida, recognized for our commitment to quality, knowledge, and customer satisfaction. We are a Certified Partner with the prestigious Institute of Inspection, Cleaning and Restoration Certification (IICRC), the International Carpet & Rug Institute (CRI), and a WoolSafe Approved Service Provider.
Services Offered:
From cleaning to repair, fringe replacement, and pet urine treatments, we offer a range of services, including free pick-up and delivery for most area rugs and comprehensive appraisal services, making us a one-stop shop for all your rug needs.
Clientele:
Our satisfied clients include rug collectors and owners who value their rugs and trust our experienced and trained staff to deliver impeccable service, preserving the essence of their precious possessions.
Benefits of Choosing Oriental Rug Salon
Experienced and Certified Staff:
Our team at Oriental Rug Salon is well-versed in the nuances of Oriental and Persian rugs, ensuring the proper techniques and products are used for cleaning and repair, protecting your rugs from any damage. Our cleaning solutions are specifically designed for wool and silk textiles, and our cleaning procedures exceed the requirements of all international standards.
Free Pick Up and Delivery:
We understand the value of convenience. That's why we offer free pick-up and delivery for most area rugs, making the process smooth and hassle-free for our clients. Our average turn-around time is two weeks or less.
Comprehensive Appraisal Services:
Our appraisal services are designed to provide detailed information about the value and condition of your rugs, and our appraisal services are relied upon by insurance companies, the court system, rug collectors, Oriental rug retailers, and rug owners curious about the value and history of their cherished area rug
Your Rugs Deserve the Best!
Choosing a reputable and experienced Oriental rug cleaning company is vital in preserving your rug's value, beauty, and integrity. Oriental Rug Salon, with our extensive experience and dedication to quality, is your trusted partner in maintaining your rugs in pristine condition. Entrust your treasures to us and experience our unparalleled service in SW Florida!
SW Florida's Most Referred Area Rug Cleaning Company
Oriental Rug Salon is a full-service area rug cleaning, repair, restoration, and appraisal company servicing clients nationwide.  We are in Cape Coral and offer FREE pick up and delivery for most area rugs throughout Lee, Collier, and Charlotte County.
For more information about Oriental Rug Salon and our services, please visit us at https://orientalrugsalon.com/ or call us at 239-424-8171.  You can also check us out on Facebook at https://www.facebook.com/OrientalRugSalon/
Discover the Oriental Rug Salon difference! Contact us today for meticulous cleaning, authentic repair, and detailed appraisals of your Oriental and Persian rugs. Your beautiful rugs deserve nothing but the best!