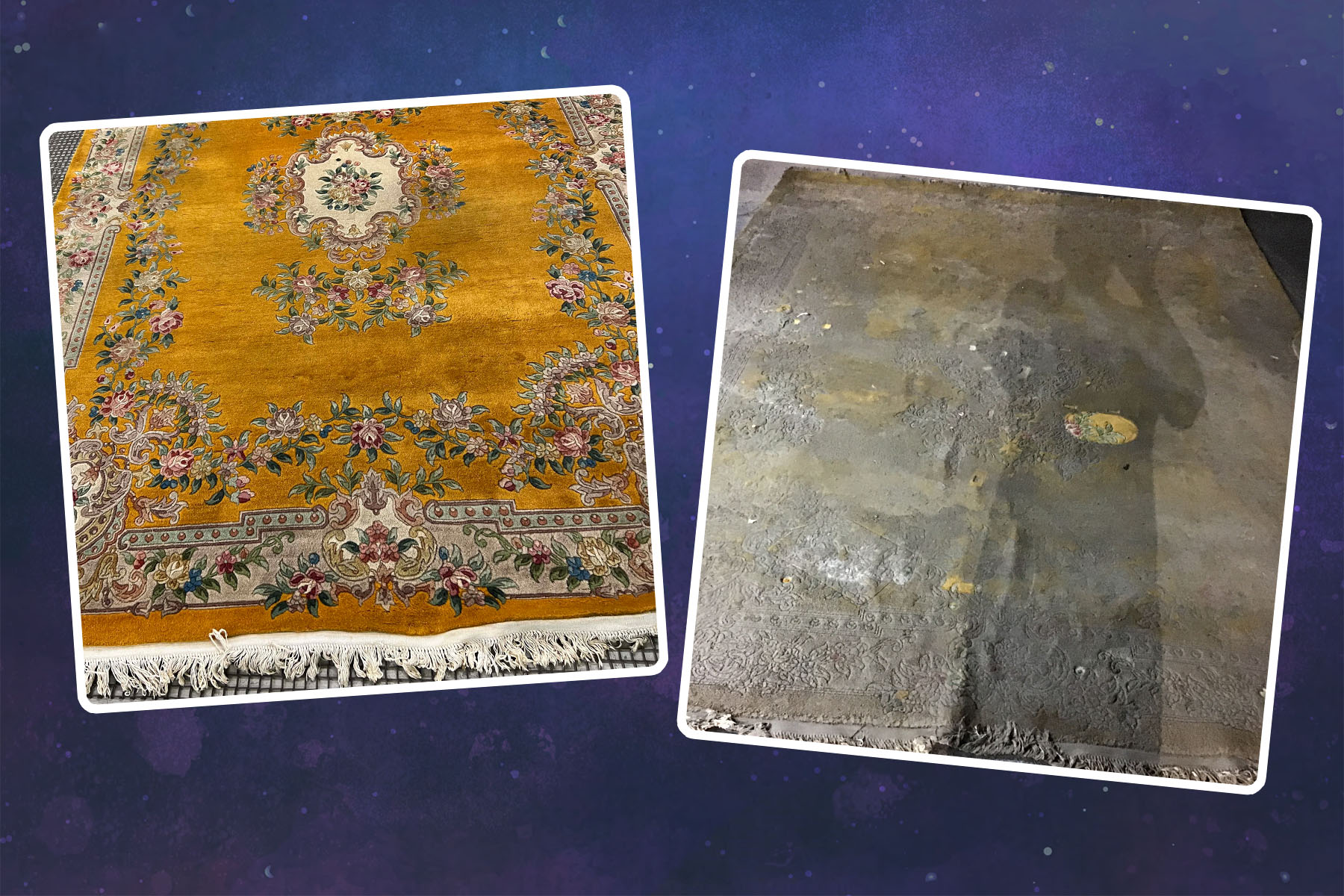 How Oriental Rug Salon Saved a Hurricane-Damaged Rug
Your cherished Oriental or Persian area rug deserves the best care, regardless if it has been involved in a hurricane or other natural disaster, has suffered a pet accident, or as part of its routine care. Clients rely on Oriental Rug Salon to help maintain and restore their cherished area rugs' beauty and longevity.  Who you choose to maintain or restore your area rug can make a world of difference.
The Value of a Professional Oriental Rug Cleaning by Oriental Rug Salon
When faced with a damaged Oriental or Persian rug, you might be tempted to attempt a DIY cleaning solution. However, wool and silk rugs' have delicate fibers, intricate patterns, and colors that require professional expertise. Oriental rugs can not be cleaned like wall-to-wall carpeting, and trusting an expert like Oriental Rug Salon ensures the preservation of your rug's value, appearance, and structural integrity.
The Story of the Hurricane-Damaged Tientsin Rug
On September 28, 2022, Hurricane Ian struck SW Florida's gulf coast and was recorded as one of the most impactful storms in the United States.  In the wake of Hurricane Ian, a client trusted us with their cherished Chinese Tientsin Oriental rug that had been submerged in mud and seawater for over two weeks. The rug was in a terrible state, but the client hoped for a miracle.
How Oriental Rug Salon Saved the Day
Initial Inspection
Our restoration team started with a comprehensive inspection to assess the damage, determine the rug's construction and fiber content, and establish a tailored restoration plan. We tested the stability of the rugs dyes, checked for dry rot, as well as organism and insect damage.
Cleaning Process
Once given the approval by our inhouse Rug Master and appraiser, with great care, we removed the mud and seawater, followed by a gentle cleaning with specialized solutions to remove stains, odors, and bacteria. The area rug was pH conditioned rinsed, dried in a climate controlled environment, and the nap was groomed into its original position.
Restoration Process
The rug needed some repair due to hurricane damage. Our skilled artisans meticulously restored the damaged areas, replicating the original patterns and colors with precision.
Final Result
The transformation was nothing short of phenomenal. Our client was overjoyed to see their Tientsin rug restored to its former glory.
Tips for Choosing the Right Rug Cleaning Company
Experience Matters!
Choose a Oriental rug cleaning company with a track record of successfully cleaning and restoring damaged Oriental or Persian rugs. Experience means they're equipped to handle unique challenges; from thoroughly exhaustive cleanings, to treating for pet urine or insect issues, fringe repairs or replacements, as well as repairing damage, and appraisals.
Check Reviews
Look for reviews and testimonials from past clients. Positive feedback can indicate trustworthiness and high-quality work. Check out their website and social media activity. Ask yourself, is this company well respected and professional?
Inquire About the Cleaning Process
Understand the cleaning process they use. Ensure it's appropriate for your rug's specific needs and won't cause further damage. You should look for a rug cleaning company that specializes in "hand washing", who is supervised by a certified Rug Master, is insured in case something happens to your area rug while under their care, and has a professional available to speak with you anytime throughout the cleaning process.
You Can Trust Oriental Rug Salon
Oriental Rug Salon is a full service Oriental and Persian area rug cleaning company serving clients throughout the United States.  Our 6,000 square foot facility is located in Cape Coral, Florida and we offer free pick up and delivery for most rugs throughout Lee, Collier and Charlotte County.
Oriental Rug Salon is a Certified Partner with the prestigious Institute of Inspection, Cleaning and Restoration Certification (IICRC), the International Carpet & Rug Institute (CRI), and a WoolSafe Approved Service Provider.  We offer hand-washing and our cleaning, restoration, and repair services are supervised by an inhouse Rug Master.
For more information about Oriental Rug Salon and the services we offer, please visit us online at https://orientalrugsalon.com/ or give us a call anytime at 239-424-8171.  You can also visit us on Facebook at https://www.facebook.com/OrientalRugSalon/.
If you'd like to chat with us online, look for the "Have A Question" button at the lower right hand side of any page on our website and a technician will chat with you live between the hours of 8 AM thru 5 PM Est.
Your Oriental or Persian rug deserves the best care. Trusting professionals like Oriental Rug Salon with your treasured rug ensures it receives the expert attention it deserves. Let us restore the beauty of your area rug and bring your cherished rugs back to life.