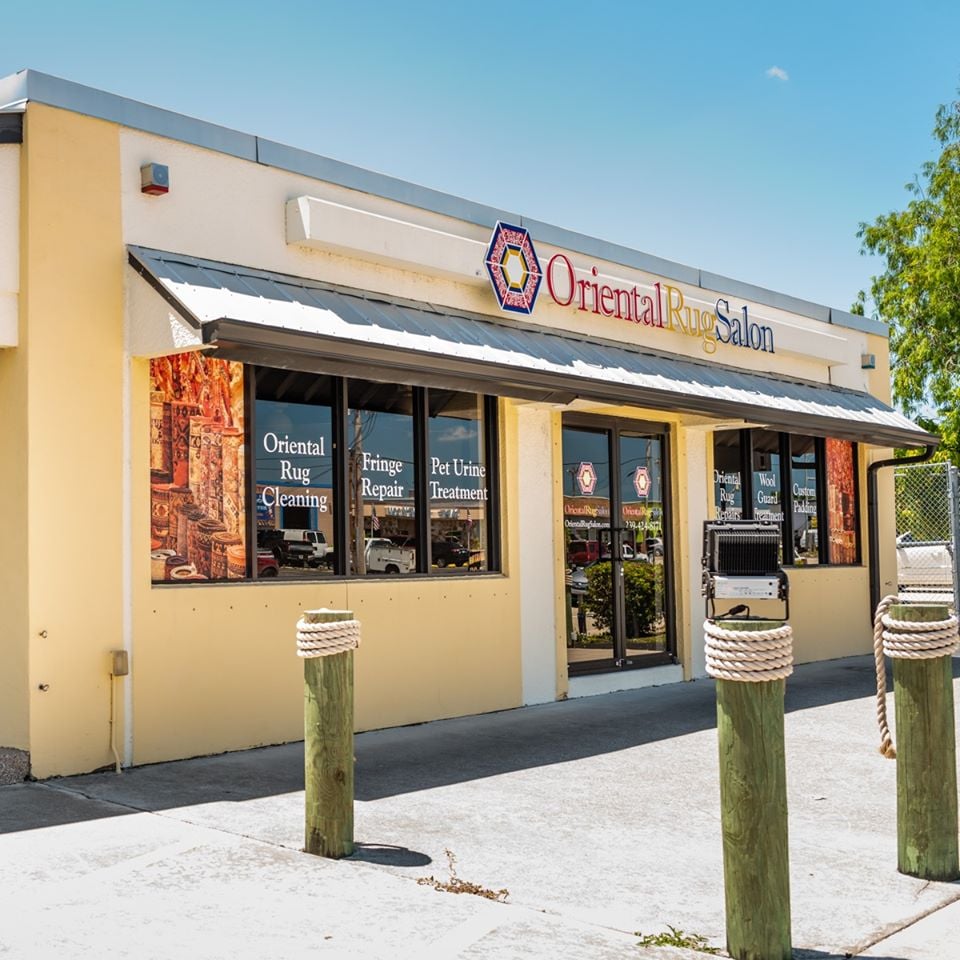 How Are Oriental Area Rugs Cleaned?
At Oriental Rug Salon, we're often asked about our Oriental and Persian area rug cleaning process and what makes us different from "everybody else."
For starters, every rug trusted to Oriental Rug Salon is washed by the hands of experienced-certified rug cleaning specialists under the supervision of a Rug Master.  While some shops have invested in automation to wash many rugs simultaneously using a mechanical batch wash process, hand-washing, used since the beginning of time, is proven to be more effective at removing deep-set contaminates while preserving the beauty of each rug washed. Hand-washing area rugs take skill and patience and allow us to act immediately should a rug experience an issue during the wash procedure. The automation process is impersonal and doesn't require much skill because all the operator has to do is know how to push the "start" button.
Fun Fact – Do you know the difference between an Oriental rug and a Persian rug? Although both types of rugs are from the same region (the "Rug Belt" that stretches from Morocco to Central Asia), Persian rugs are specifically made in Iran. On the other hand, Oriental rugs can come from various countries such as China, India, and Turkey. Persian rugs fall under the category of Oriental rugs but are often favored due to their distinct designs and patterns.
The Rug Cleaning Process At Oriental Rug Salon
Before we begin cleaning, our Rug Master orders a complete inspection of the area rug and photographs. Each rug is inspected with Xenon lighting and goes through a 24-hour dye migration test to determine the color fastness of each color and if any pet urine or other biological materials are present. During this inspection process, if any issues are discovered, such as moth damage, urine salts, loose fringe, holes, etc., these incidents are noted in a written report to the client.
Upon the client's approval after receiving the written report, the area rug goes through a multi-step cleaning process, including:
Dusting at 40,000 harmonic vibrations per minute
A bath is prepared based on the findings during the inspection process
Each rug is washed, one at a time, front and back, in a pH-controlled cold bath
The rug is rinsed using pH-adjusted rinsing solutions
Air table drying follows the cleaning in a climate controlled drying room
The rug is inspected by the Rug Master
The nap of the area rug is groomed into position and a lanolin finishing agent is applied
The rug is wrapped and ready to go home
Questions and Answers About Oriental and Persian Area Rug Cleaning
Q – How Much Will It Cost To Clean My Area Rug?
A – We charge a base price of $4 per square foot for a thoroughly exhaustive hand cleaning.  We do have a minimum service charge of $125 per rug for cleaning. The cleaning process is carried out at our 6,000-square-foot rug cleaning plant.
Q – What Are The Processes To Clean Area Rugs At Oriental Rug Salon?
A – Factors that affect how your rug will be cleaned include size, geographic origin, construction techniques, fiber content, age, and dyes. In all cases, after inspection, rugs will be physically dusted to remove abrasive grit and debris trapped deep in the carpet pile. Then safe, industry-approved cleansing agents are applied in a cold water, pH-conditioned bath to emulsify and remove soil, pollen, dust mites, pet dander, and other contaminants. Our rug cleaning experts are trained to clean using the most appropriate methods.
At the completion of the rug bath, moisture is extracted from the rug using a centrifuge process and then placed on an air table in a climate-controlled drying room. Upon final inspection, the area rug goes through a finishing process where the nap is groomed into position, a softening agent is applied, and the rug is rolled and protected, and ready to go home.
Q – How Can I Tell When It's Time For My Area Rug To Be Cleaned?
A- If staining is obvious or your rug has not been cleaned in the last 2-3 years, it's time.  You can also try the "touch test." The touch test is a simple and effective way to gauge the level of soiling. Simply rub the pile with an open hand going with the direction of the pile. If your hand feels dirty or sticky, the rug probably needs to be cleaned. Another way to test is to vacuum your area rug and then fold over a corner of the rug and place a white sheet of paper on the rug's surface while you hold the corner of the rug over the paper.  "Slap" the back of the rug piece that you are folding over the white paper several times, and if dirt or other contaminants fall onto the paper, it's time for professional cleaning by Oriental Rug Salon.
Q – Do You Offer Pickup and Delivery?
A – For most area rugs, we offer FREE pick-up and delivery throughout Lee, Collier, and Charlotte County. Our rug cleaning services are performed in a specially designed restoration studio that can accommodate the smallest decorative rugs to the largest room and palatial-size carpets. We provide every customer with the highest level of service from the initial pick-up through final delivery.
Q – Between Cleanings, What Can I Do To Preserve The Look Of My Area Rug?
A – Never place flowerpots on your area rug; if you must, ensure you have something under the pot to catch any moisture. If moisture from the pot seeps into the rug, the area will develop dry rot over time, and there is no way of fixing it without reweaving or patching.
Rotate your area rugs every 180 days to help guard against traffic lanes developing on your cherished area rug.
Vacuuming your rug is the best thing you can do to protect the longevity of your favorite rugs and help keep your indoor air quality clean (wool rugs act as an excellent air filter). So, let's talk about rugs and vacuums. This video is the best way to explain the damage caused by dust/dirt/grit in relation to rugs.
Q – Should I also allow a carpet cleaning company to clean my area rugs while they are cleaning my wall-to-wall carpeting?
A – NO! Carpet cleaning companies do a good job cleaning nylon and other artificial fibers that wall-to-wall carpeting is made of however, they have no certifications or experience in cleaning delicate wool or silk fibers.  Take a look at this video and you'll discover why its best to have a specialist clean your natural fiber Oriental and Persian area rugs.
Q – Should I have a rug pad under my area rug?
A – YES!  Please take a look at this video outlining the benefits of rug padding.
Q – How do I handle pet urine on my wool or silk Oriental rug?
A – Check out our video about pet urine and Oriental rugs
Q – What is a Viscose (artificial silk, banana silk, etc.) area rug and is it a good buy?
A – Viscose is not silk and is a disaster to clean if a stain occurs on it.  Here's a video you should view before purchasing a Viscose made rug.
A Thoroughly Exhaustive Area Rug Cleaning Begins At Oriental Rug Salon
Oriental Rug Salon is a full service area rug cleaning, restoration, repair and appraisal company serving clients throughout the United States.  We call SW Florida home, and our 6,000 square foot facility located in Cape Coral cleans, restores, repairs, and appraises thousands of rug annually.  We call SW Florida home and offer free pick-up and delivery for most rugs throughout Lee, Collier, and Charlotte Couty.
For more information about Oriental Rug Salon and the services we offer, please visit us online at www.OrientalRugSalon.com or call us any time at 239-424-8171. You can also visit us on Facebook at https://www.facebook.com/OrientalRugSalon/